Nowadays, the outer skin of smartphones mainly consists of one material: glass. And unfortunately this is quite susceptible to scratching, even if the manufacturers of course rely on special glass such as Gorilla Glass. A case is not my favorite for protection, it just makes the smartphone too thick. So what to do? Put on alternatives that we would like to introduce to you in this article.
Makes your smartphone unique with a skin
I am not a fan of cases and never have been. Since I bought my first smartphone, I have used my devices without any protection against falls. Instead of defacing a smartphone with a thick case, I prefer to pay attention, as well as all other expensive products in my area. I don't buy a car and then put cotton on him, right?
It looks different when it comes to scratches. It is impossible to avoid them without protection, and a scratched smartphone never looks nice. That is why I have relied on skins or protective films for many years that do not enlarge my devices, but protect them from scratches and other signs of wear. There are many alternative solutions that not only protect smartphones, but also make them unique and personal.
dbrand
Probably one of the most famous skin brands on the market: dbrand. The manufacturer produces customized films for many of the best smartphones of recent years, tablets, iPads and even for Macbooks and some Razer laptops. Game consoles like the Xbox One X, PS4 Pro and Nintendo Switch are also on the list.
In addition to the simple monochrome films, there are also some special ones that imitate natural materials and not only look good, but also change the feel. The best known are those in marble, leather and various types of wood. These skins not only protect your devices from scratches, but also increase grip.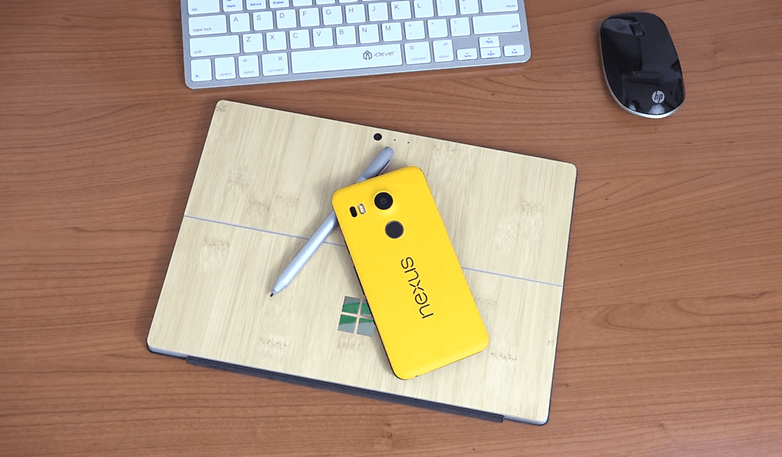 EasySkinz
If you are looking for something more original and colorful, EasySkinz might be the right choice. In this case, too, the skins are available for the latest top models such as Note 9 , iPhone XS , Galaxy S9 and the most popular game consoles.
There are metallic skins and well-known brand logos and special 3D textures can be selected. Protection from scratches is also guaranteed in this case, and the foils also look really good. Finally, you no longer have to worry about where to put your smartphone.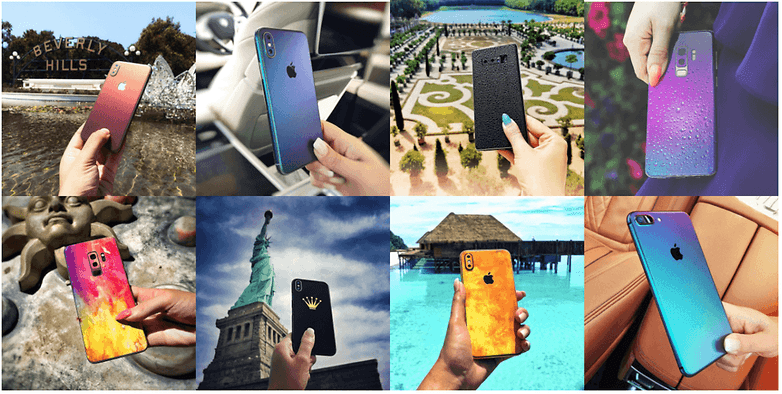 Mobile outfitters
The peculiarity of Mobile Outfitters is that you can sometimes find them in local retail stores. A big advantage: If you buy a skin here, you can also ask that it be professionally applied on site. So if you don't want to risk anything, you've come to the right place.
Also interesting is the availability of some transparent skins that protect your smartphone without affecting the beautiful design.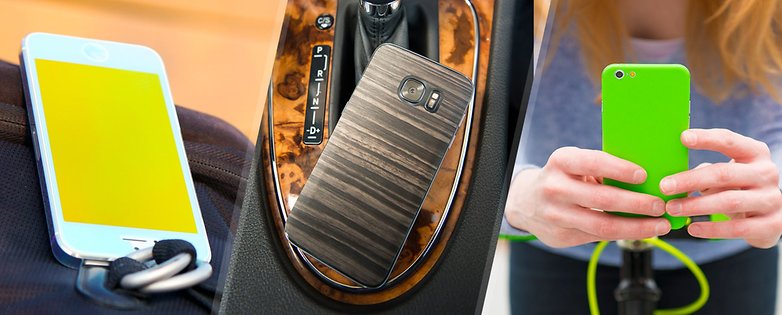 The protection of a case without hiding the design
The only thing that comes to my smartphone in terms of cases are so-called bumpers. I used one of these on my beloved Nexus 4, and a bumper is also used on my iPhone X. Basically, it is a case, the back of which is missing. The smartphone is therefore just as well protected against falls, but the design is less affected than with a full case. Sure, should the smartphone fall exactly on the back with something pointed, unfortunately one was unlucky. The combination with a skin is very useful here.
Rhinoshield Bumper
Rhinoshield is probably best known for its extremely shockproof cases. All of the company's experience has also gone into developing some bumpers that can protect your smartphone from the worst falls without hiding the beautiful design. I am currently using the bumper and a skin. This combination not only provides protection, but also numerous possibilities when choosing colors and designs.