If you are wondering how to change the email address of Mail.ru, Yandex, Gmail or any other service, you will not be able to do this. At least directly. This is the identifier by which the postal system recognizes you. It is unique, as well as a mobile phone number, passport series, zip code. If the box is registered, it is no longer possible to correct any letter in its name or change the number. We'll have to create a new one.
It is impossible to rename the address at the software level in all e-mail services. After all, the correspondence will be sent to the "old" login. And, accordingly, it will not reach you. But there is a way to get around this limitation. You can transfer contacts and letters, as well as set up the collection and redirection of incoming messages. And you won't have to figure out how to change your email address. You can simply register a new mailbox and continue working in it by copying all the data from the old one. This will be the same as changing your username.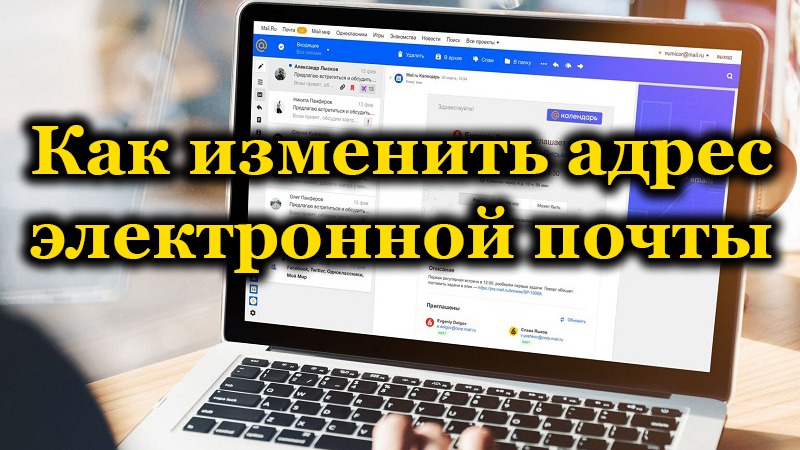 Transferring data from the old one to a new e-mail box
If you have access to an account on Mail.ru, Yandex, Gmail, Rambler, Qip or any other service, you can transfer all contacts, letters, folders from it. A message collection function is also available. All correspondence that comes to one of your mailboxes, you can view on another.
See how to copy information to a new login, using some popular resources as an example. On all sites, the principle is approximately the same. If you figure out how to change your email address in Yandex, you can do the same in Rambler and Qip.ru
Yandex
Yandex is a Russian search engine with many different services. In addition to the basic functions, it provides users with cloud storage, a cashless payment system, a navigator, shops, posters, TV programs, news, vacancies, radio, music, video and much more. And, of course, Yandex has its own mail server.
Before making a new address, you need to copy all your data from the old one.
Go to the account you want to change.
Click on the gear-shaped icon (it is located in the upper right next to your nickname).
Item "Contacts".

"Save to file" button.

Select vCard from the Mail Client list. It is a common format that can be downloaded on almost all email services. If you decide to change not only your login, but also the domain (say, switch from Yandex.ru to Gmail), the information can be transferred to another resource.

Save the file.
There is one more way. Go to the folder with letters, click on the "Contacts" link at the top. There will be a list of your addressees. Click on "More". An option will appear to add this information to the file.

Now you have a backup copy of the contacts of those people with whom you communicate. And you can go to the new address.
Register in Yandex with the login you need.
Open the menu where you saved the information ("Gear" – Contacts).
Click "Add from file" and specify the path to the folder where you placed the information.

After that, you need to transfer the messages.
Click on the same "Gear".
Item "Mail collection".

Write your login along with the domain and password.
Check the "Copy emails with folders" checkbox.
Enable Collector button. All correspondence will be rescheduled.

Do not forget to warn the recipients that you have decided to change your e-mail and are now sending messages from it. The letters that came to the "old" mailbox will be copied to the one you just registered. You can safely use your new account as if it were your original address.
Mail.ru
Mail.ru is a popular Russian-language service. In it, you can not only receive and send messages. It has its own online storage, a social network, a dating service, a thematic magazine for women, horoscopes, news and a unique product called "Question-Answer". In it, anyone can ask anything and get comments from other users.
To save addressees to Mail.ru mail, you need to do the following:
Log into your main account.
Open "Contacts".

Click on the icon in the form of three small stripes. It is to the right of the other buttons.
Select "Export".

You can transfer everything at once or specify a separate group.
In the "Format" field, check "vCard".

Confirm the action and save the file.
Then register a new mailbox. You can add contacts to it in the same menu. Only instead of "Export" select "Import".
Now enable the letter collector to permanently change the address.
Click on your login. It is in the upper left next to the "Exit" button.
Item "Settings".

Section "Mail from other mailboxes".
Enter login and password.
If the account you decide to change is not on Mail.ru, you can select a specific domain. In some of them it is necessary to give access to information. For example, when adding data from Gmail, you need to provide a username. The system will redirect you to this site. Allow the collection of letters there.

All messages will be copied to the new mailbox. Incoming mail will also be redirected to it.
Gmail
Here's how to change your Gmail.com email address and transfer your data to another account. This is a product of Google – a large-scale resource that includes a huge set of services: from a simple search engine to video hosting and an application store. To switch to a new mailbox, you must first save the addressees.
Enter the mail.
Click on the arrow next to the "Gmail" button in the upper left.
Item "Contacts".

More button.
The line "Export".

In the updated design, this option is not yet available. If you are using it, the system will offer to switch to the old version of the site. Agree. There you can see the export option by clicking the More button.

After registering a new e-mail, you can import destinations from the same menu.
You now have a different Gmail login. But in order to finally change the mailbox, you need to transfer all the letters to it. And make sure that incoming mail is also sent to a new address.
Click on the gear image in the upper right.
Item "Settings".

"Accounts and Import" tab.
Menu "Import mail and contacts". So at the same time you can transfer the addressees without saving them to a separate file.

Enter login and password.
When the letters are loaded and appear in the folders, you can change your account and switch to a new one.
Sender information
Incoming messages always display information about the sender. If you did not provide any information about yourself when registering your e-mail, the recipient of your messages will have your address in the "From" field. It can be changed to whatever you like.
In Mail.ru, this option is in the parameters. Click on your username, select "Settings" and go to "Name and Signature". There you can write the data of the sender.

In Yandex, this section is placed in "Personal data, signature, portrait". A link to it will be displayed if you click on the "gear".

In Gmail, the sender's name is set as follows: click on the same "gear", open "Settings", then "Accounts and Import". There will be an item "Send emails as" and next to it a button "Change". Write your desired name.

This only affects the displayed login when the recipient views incoming messages. You will have the same box. Other people will write to him.
If you don't know how to change your email address, you won't be able to do it directly. But you can register a new one and transfer letters and contacts there. Incoming messages will also be redirected to the created account. It will look as if you have changed your username.