So far, anyone who wanted to replace their BMW key with a smartphone needed one from Samsung. In the future, this should also work with an iPhoneReading time:1 min.Save in pocketreadPrint viewread comments38posts
The situation was no longer communicable to wealthy customers: those who wanted to use the full range of functions in a new BMW had to have two smartphones – one with iOS, one with Android. After the integration of Android Auto, it is now planned to also offer the digital vehicle key for the upcoming iOS 14. That reports 9to5mac .
Apple's new Carkey function as a basis
Apple plans to integrate a new "carkey" function in iOS 14. BMW appears to be the first company to use this, although the group has not yet officially confirmed it. This would make it possible to use the iPhone as a vehicle key. So far, this has only worked at BMW with a few Samsung Galaxy models.
However, it is not yet clear whether iOS 14 will be the only requirement. The Ultra Broadband Chip (UWB) that Apple introduced with the iPhone 11 may become mandatory. The decision about this is of some importance for theft protection. BMW has so far commented on this: "In the near future, the digital key specification will be expanded by version 3.0, which is based on ultra-broadband (UWB). This offers maximum theft protection and enables precise localization between the device and the vehicle. As a result, the mobile phone no longer has to be held directly by the door handle to unlock the car, but can be conveniently left in the pocket. "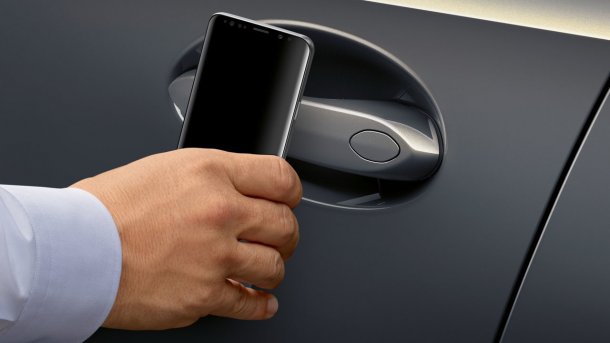 BMW now wants to allow Android Auto for infotainment
For a long time, only Apple CarPlay could be fully integrated into the BMW infotainment system. The Bavarians have already given up their stubborn resistance here: From June 2020, new BMWs can also be ordered with Android Auto, provided they use the current OS7 – which is the case in many new BMWs. Retrofitting for models that have this operating system installed since 2018 should only be a matter of time.