Dark mode is finally available in Android Pie, and users can already activate it manually, or leave it in automatic mode – it will activate as soon as the wallpaper is dark. In this quick tutorial, we show you how to access the menu to activate the dark theme.
Android users have had to wait a long time to be entitled to a dark mode but this is finally the case with Android Pie . This functionality, far from being a simple "intelligent reverse mode" like on the iPhone, is a complete redesign of certain parts of the interface to make the user experience smoother, especially when you use your smartphone in conditions of low light. On smartphones with an OLED screen, dark mode is also a way to save a bit of your battery . Google had already briefly activated a dark mode by mistake in Android Oreo – which was activated automatically depending on the wallpaper.
How to activate dark mode in Android Pie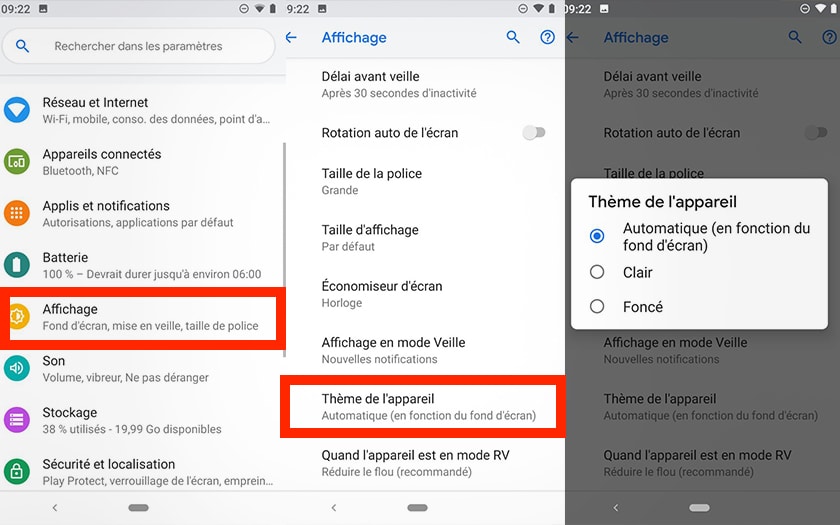 To activate dark mode on an Android Pie smartphone:
Go to Settings> Display> Advanced> Device theme
Choose Automatic if you want this mode to activate when the background is dark or Dark to activate the mode immediately
To turn off the dark mode, simply return to the same menu and check the box Clear
Of course, these instructions are the generic instructions. Depending on your manufacturer's Android Pie overlay, the access path may be slightly different than on a Pixel smartphone. It may also be that the result is not exactly the same as the dark mode of a Samsung smartphone with Samsung Experience 10 for example .
In addition, this theme essentially changes the way some parts of the system are displayed: essentially the application drawer and Quick Settings . Activating this dark mode at the system level does not change the theme of all applications, which, individually, can also have their dark mode such as Google Maps .
Have you activated dark mode on your Android Pie compatible smartphone ? What do you think ? Share your opinion in the comments.