The Andy emulator allows you to run your APKs on Windows and MAC. When it appeared back in 2014, Andy was probably the best Android emulator for Windows. Even above popular alternatives like Bluestacks or Youwave, something that motivated me to write about it in this article. Although the tutorial and all the complete information can be found below, including its requirements, I can no longer recommend it more because it was detected that it was mining bitcoins .
With Andy you can emulate your APKs in Windows
As seen on their website  Andyroid.net , where you can download it for free, they make a comparison between Andy, Bluestacks and YouWave. The former notably outperforms the remaining two by offering a ton of really cool and useful features.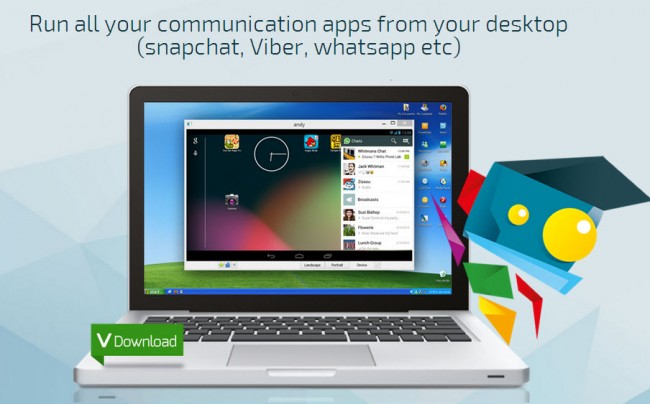 It really is very attractive the fact that it works on Windows XP, 7 and 8 as well as on Mac OSX. It has full support for the Google Play Store (download and installation of applications), Android in full screen, synchronization of applications, use of the cell phone as a command, integration with camera, microphone, and much more.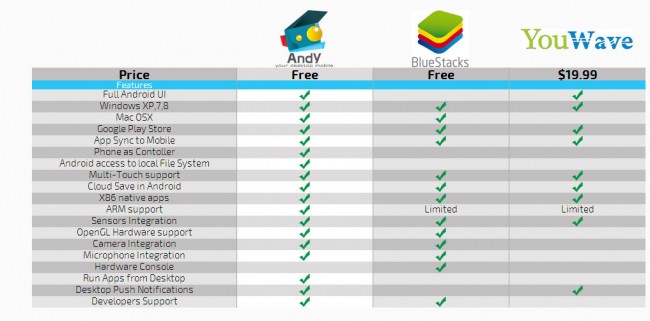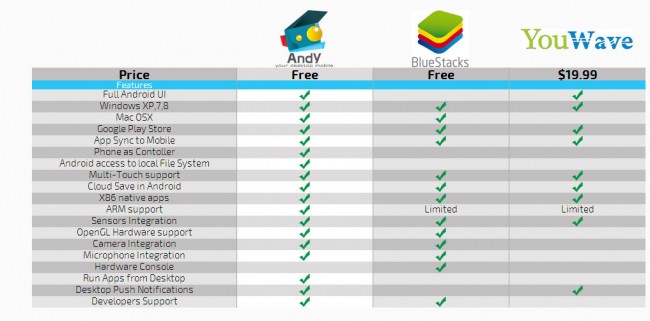 Andy vs. Bluestacks vs. Youwave
The highlight of Andy is that, despite appearing far superior to the competition, it is completely free, although they have already found a way to monetize it (which you will not like at all).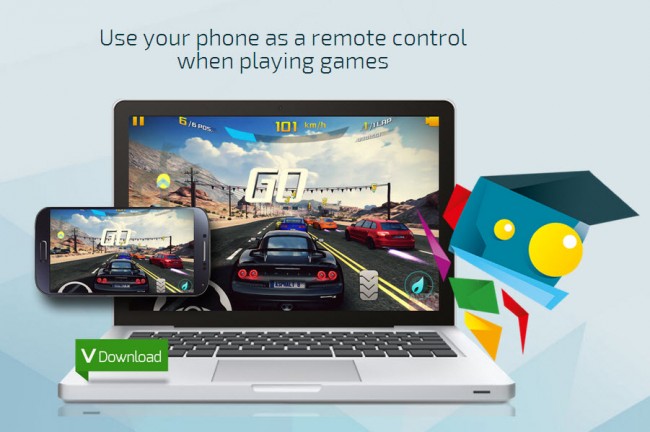 Emulate Android on Windows with Andy
Fortunately it is very easy to install Andy and in just a few steps you will have Android on your computer. All you have to do is download this emulator. You run the installer and follow the typical installation steps of any Windows program. Now, you must take into account what I indicate below during that installation process (for basic users):
Andy's program is nothing more than a virtual machine running Android (an Android custom ROM to be more exact). You don't need to configure this virtual machine. You just have to follow the installation steps indicated by the software and Andy will do everything for you. At the end you just have to run the program, like any other in Windows, to open Android on your PC.
If you already have Virtual Box installed on your PC (whatever version), uninstall this program before starting.
Already within the installation process, on the Select Components screen choose Full Installation and make sure that all the boxes are activated (Andy Player, Android image and Virtual Box 4.3.10). Compact Installation and Custom installation are only options for advanced users.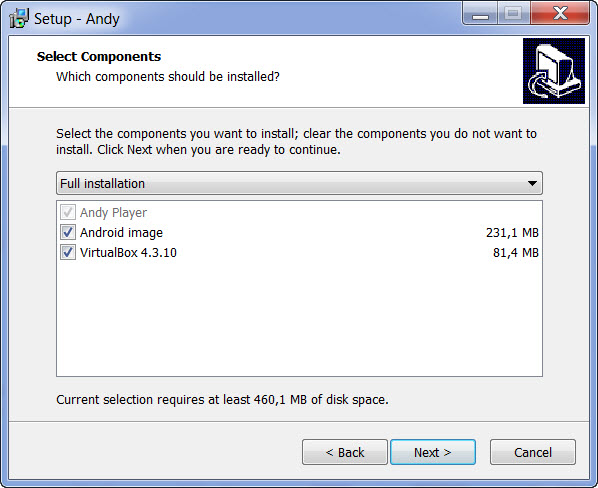 During the process, there are several screens that ask you if you want to install Oracle device software. You must click on "Install" in all of them. All this software is necessary for Andy to work properly in Windows.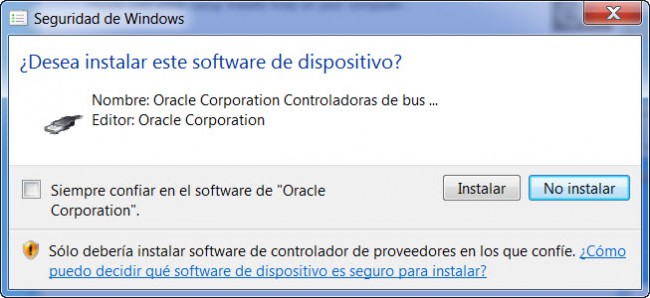 Windows Firewall can block Andy. If when opening the program the first time you are shown a Windows Firewall screen, you must allow Andy access using the respective button for it. If you don't do this, when you open the program you will only see a black screen and then it will close itself.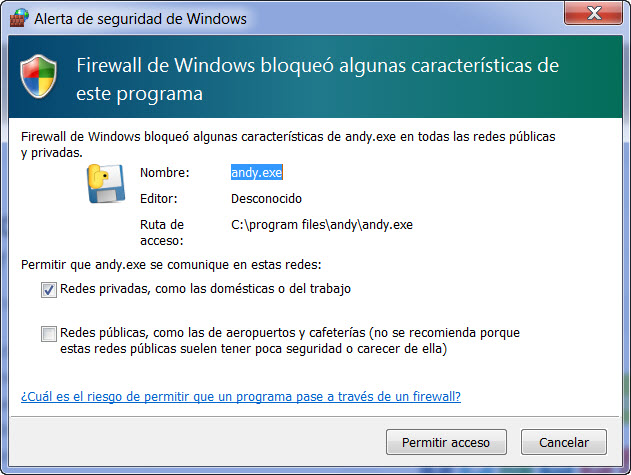 Update : If you have security concerns in this regard, try to cancel Andy's access to go through the Firewall. If it doesn't work like this, reinstall it, allow access, and after it's done, open Windows Firewall and block access. By doing it this way it kept working for me without problems.
Make sure the program installation completes correctly. It happened to me that the PC restarted for no apparent reason just before finishing. When opening the program after this, it only had a black screen and it did not go from there. I had to install again and this time the installation completed successfully and Andy started without problems.
How to set up and use Android on Andy
Once all that is completed, you can start configuring Android in Andy. You will have the typical Android configuration wizard, which is the one we have when we are configuring a new device. This is easy; simply follow the respective configuration steps.
In the part of indicating a Google account, you may have problems on how to put the @ at the email address. It worked for me using Shift + 2 (which is the key where I have the @ symbol). Neither the Alt Gr + 2 combination, nor the ASCII Alt + 64 code, or the Ctrl + Alt + Q combination worked for me.
DuOS, Android installer for Windows 7, 8 and 8.1
Almost at the end you will have a 1ClickSync application screen indicating that you enter your Google credentials to synchronize the applications that you install in Andy on your devices (that use the same Google account). I want to have very apart what belongs to Andy and what I have on my devices so I did not enter any account and click on the start button of the tablet to exit this screen.
That is practically all. From now on you can start using your new Android tablet on the PC. As I indicated at the beginning, Andy not only serves to emulate Android on the computer but also to use it in games, and many other things.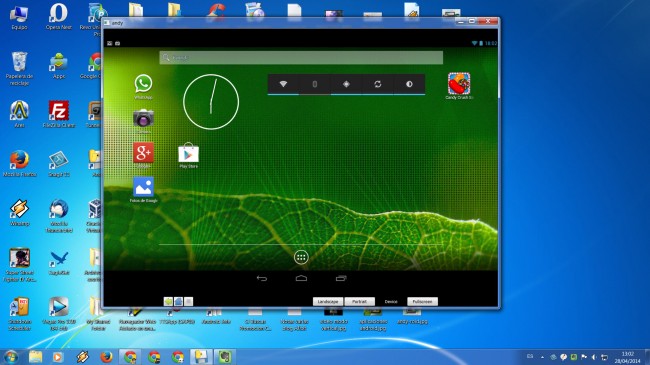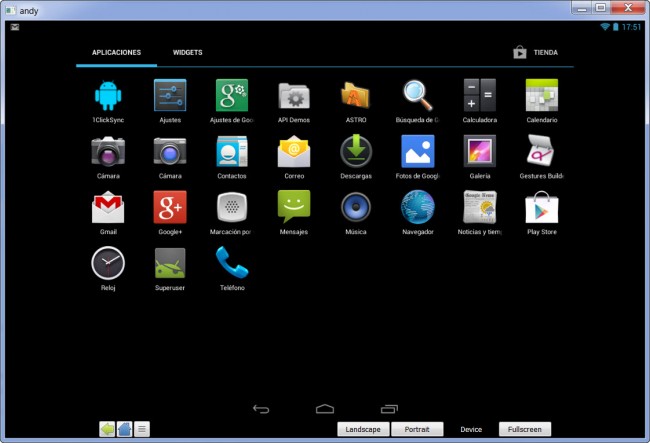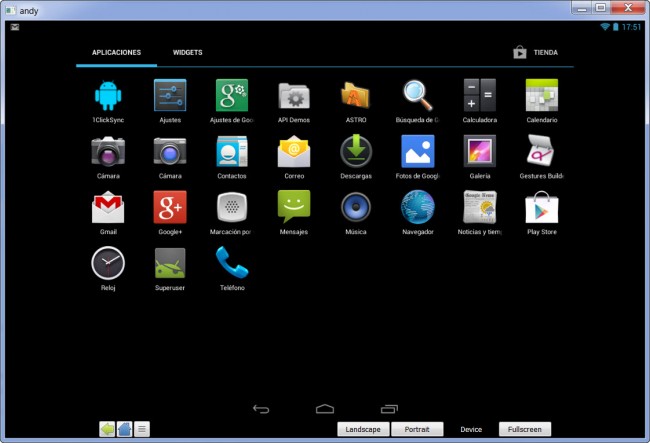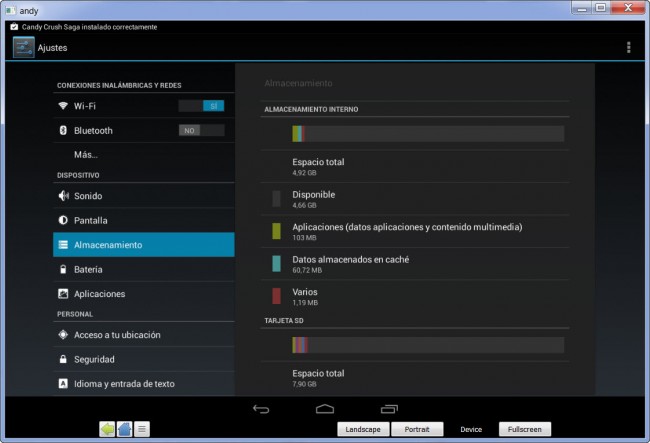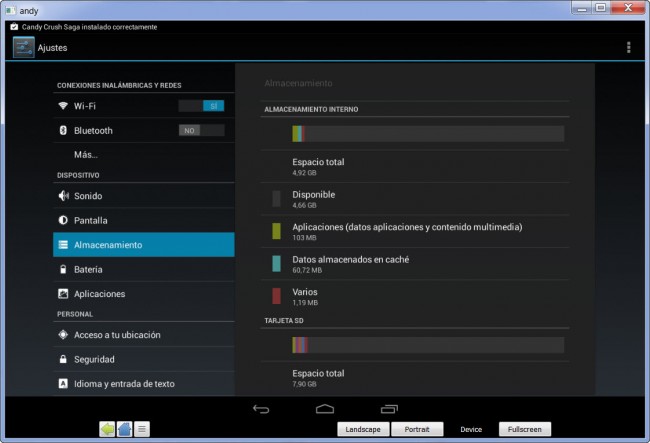 As you can see, the Android interface in Andy is that of a tablet: the applications that you install will detect this interface and will work based on this. Yes, Andy already comes with the Play Store installed so you can start downloading any application or game available in that store and start using it on your PC screen. Candy Crush for example, works perfectly. This implies that you can already use WhatsApp on the PC and any other application available for Android.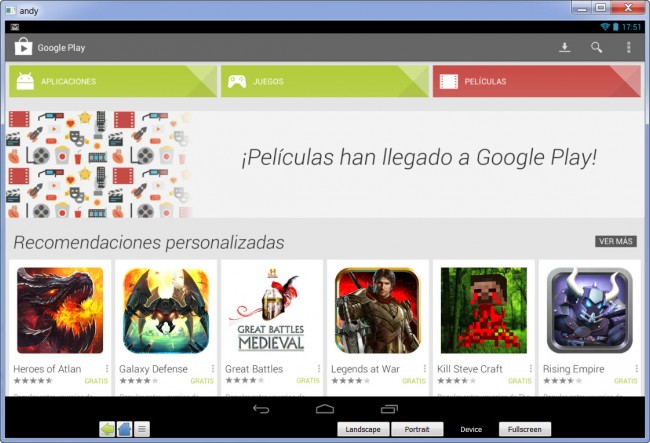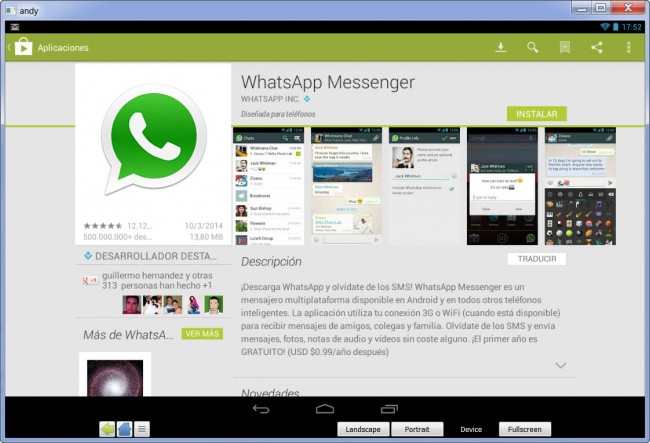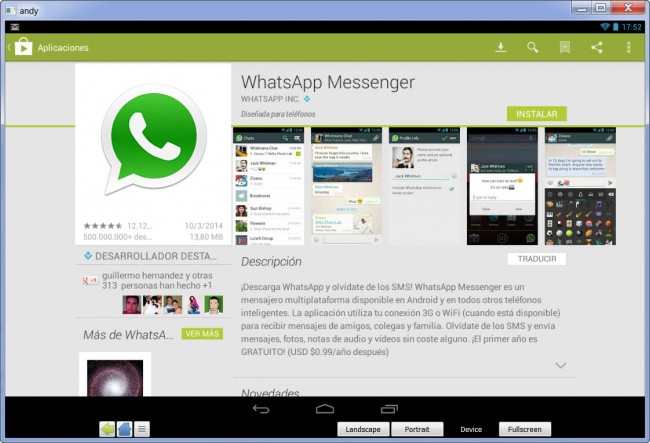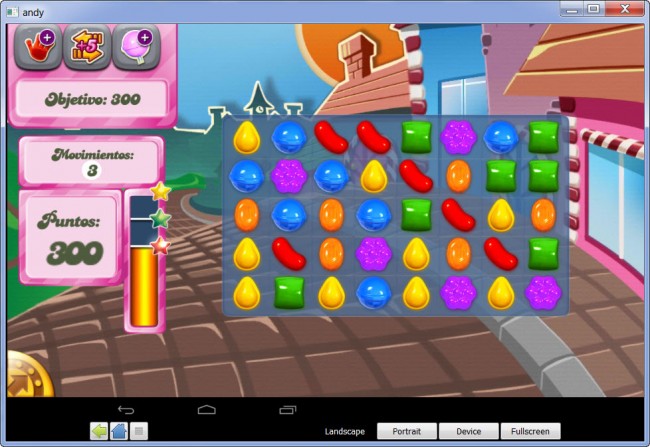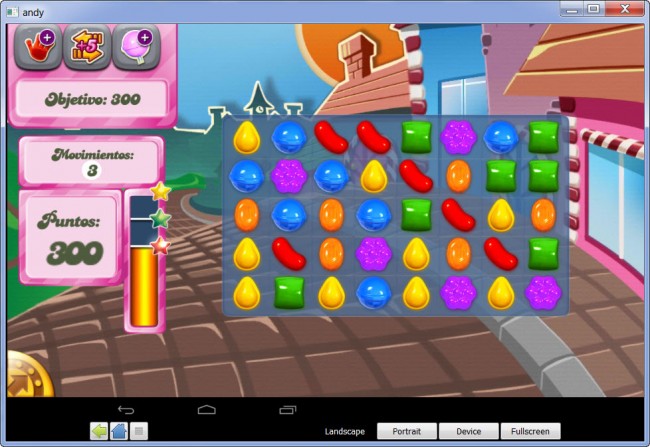 Andy emulator requirements
Due to the multiple amount of inconveniences that readers cite, I think it is prudent to list the requirements that the PC must have to be able to install and use Andy without problems, taken from the FAQ available at http://andysupport.s3.amazonaws.com/Andy_FAQ_1.1.pdf
Minimum PC Requirements:

AMD or Intel dual Core CPU that supports `Virtualization '
Windows 7 / 8.x x86 or x64
3GB RAM
Up to 20GB Fee Disk Space
OpenGL ES 2.0 capable video card

** NOTE Make sure 'Virtualization' is enabled in BIOS.
It is vital to take into account the last line that indicates that the CPU needs to support virtualization and that this feature is also enabled in the BIOS. In addition, it will be very useful for those who have problems, consult any questions on the help page on Facebook: https://www.facebook.com/groups/AndySupport/
(Thanks for this contribution Kevin!)
Andy mine Bitcoins on your PC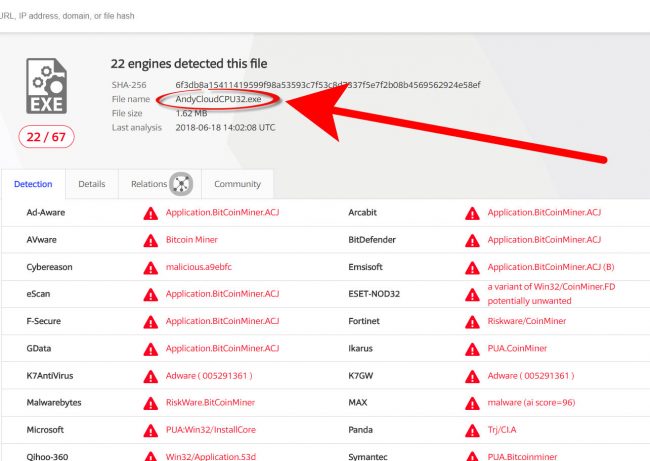 This is the disastrous part of the Andy emulator and its reputation. The matter became popular on Reddit recently.
It was a user of this website who discovered that his PC's processor used more than half of the resources after installing Andyroid. The investigation led him to find the AndyCloudCPU64.exe file, which was the one that was mining cryptocurrencies on his computer. VirusTotal analysis clearly demonstrated this, although the user claims that this file undermines the Monero cryptocurrency.
Phoenix OS, an Android system that offers the experience of a PC
There is no way that this person could be wrong, since the digital signature of the AndyCloudCPU64.exe file is from the company Andy OS Inc. So it was put by the same creators of this software.
This innovation was found in Andy with Android Marshmallow, but also in version 47 of the software. In any case, the best thing to do is to immediately uninstall this program and verify the CPU usage after it, because apparently uninstalling does not guarantee the removal of the mine. If you can't see the Andy OS program in the Windows program list, go to Andy's installation folder and run the file "uninstall" or the file that refers to it.
Alternative to Andy
The best thing you can do is install a reliable Android emulator for PC like android-x86.org. It is available free and in the latest version of Android, which is Oreo. You will need to download the system in ISO format and install it (emulate it) through Virtual Box. It's basically the same as how Andy works, only in this case it's a safe alternative and the installation work is a bit more technical.
DuOS, Android installer for Windows 7, 8 and 8.1
What is and how to do "Inverse Tethering"
Use Android as a PC speaker-speaker, via Wifi [Windows]
Receive updates: SUBSCRIBE by email and join 10,000+ readers. Follow this blog on Facebook and Twitter.