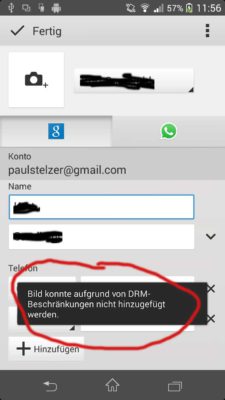 If you cannot add a picture due to a DRM limitation for a contact, we have the right tutorial for you
Occasionally, an image could not be added due to DRM restrictions. For example, if you want to assign a photo to your contact, you may get an error message. We have here a tutorial for you, with which it is possible to add a picture with DRM limitation to the contacts.
In our case, the error occurred on Sony Android devices. Although the picture had no DRM restrictions, we simply could not create it as a contact picture. The advantage of such a contact picture is that when a call is made, the picture appears immediately and the person can be assigned without reading the name.
This tutorial now shows you how to assign a picture or photo despite the error message.
Add photo to contacts
If you want to assign a photo or picture to your friend, work colleague or other caller, click on this person in your contacts app (contact list). Now you can edit this contact (often via the menu button) and select a photo.
Brief description of how to solve the problem with the DRM limitation:
After you click on Add photo on Android for your contact, a dialog appears with which app the photo album should be opened
Not the case? Then you have to remove the setting for the standard app in the Android settings (explained below in the tutorial)
Does the dialog appear? Then just start with another photo app (e.g. with Sony smartphones with the album app)
Detailed tutorial for laypersons
After you have opened the contact and want to select a photo, Android will ask you which app to use to open your photo album if you have not selected a standard app for it. If you selected a photo and the following error message appears, you should read the following paragraphs: "Image could not be added due to DRM restrictions". Otherwise, just click on "Done" or "Save" and the picture is saved for the contact.This could be of interest to you Our smartphone recommendations for Christmas 2019 – Find out more!
Error Message: Image could not be added due to DRM restrictions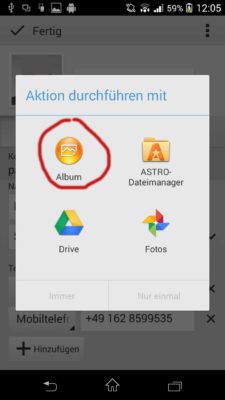 If you want to choose a picture, just use another app. The album app is suitable for a Sony smartphone with Android 4. Then no message appears regarding a DRM restriction
So far, we have encountered the problem with all Android smartphones, such as the Sony Xperia Z, the Samsung Galaxy S5 and others, if you want to use the Android Photos app. Here it can sometimes happen that DRM restrictions are given as a reason if you want to set a contact picture.
To solve this problem, simply open your photo overview with another app. In our case (see screenshot on the right), it just helped to use the album app instead of the photo app. If you don't have another app to open, just check the Google Play Store. There you will find various apps.
You cannot select an app, so the dialog does not appear? Then you have probably already selected a standard app for opening your photo albums or photos. In this case you have to delete this assignment. The next section explains how this works
So you choose another standard app for photos and pictures
To change the default app, go to the Android settings (you can often access your app overview and then settings there). Now go to the "Apps" item and scroll to the app that always starts automatically when you want to select the picture. Scroll down to the area "Start by default" and then to "Reset default setting". If you now want to select your picture for the contact, Android will ask you which app you want this to happen with. Now you can choose an app where hopefully no DRM restriction message will appear.
What exactly is a DRM restriction?
A DRM restriction means digital rights management. As the name suggests, the rights to images, videos and all other digital files are to be restricted from the user's perspective. After all, pictures, videos and the like can usually be copied without any problems. This is exactly what is to be avoided with DRM.
So it's about usage rights. In the case mentioned above, that the photo was taken by ourselves, we do not know exactly why the DRM error occurred. If you download pictures from the Internet, this can be protected by a DRM restriction and cannot be easily added as a contact picture.