As incredible as it may seem, Android Lollipop 5.0 for the Samsung Galaxy S3 mini is now available to download as a .ZIP file (ROM).
Even the latest generation Android phones have not yet received this version of Android, so obviously this is not official. This is a work by independent developers who have taken the Android Lollipop base code published by Google (AOSP) and have adapted it so that it can work on the S3 mini.
This ROM is in its initial phase of development (Alpha). This means that, although it runs well in general terms and according to the Maclaw and marcin1147 developers, there are some things that are not working yet, such as the camera, audio, phone, SMS or 3G. To this we must add other faults that may not yet have been detected. Google Apps are not yet available for this version of Android.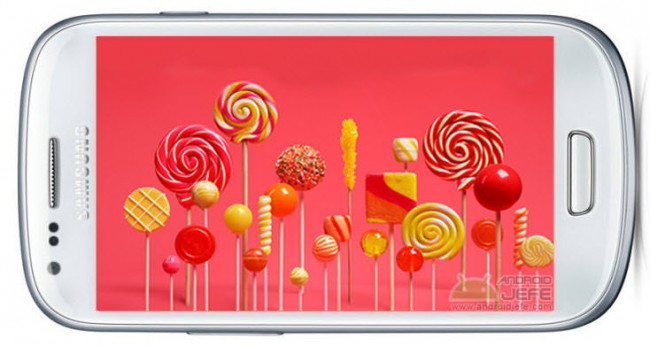 To install this Android 5.0 Lollipop ROM on your S3 mini, the developers recommend that you have the TWRP custom recovery installed. Remember to do a full backup of your phone or nandroid backup before proceeding. Before and after installation developers recommend doing a Wipe, regardless of the current ROM installed on the phone. If you need more information and details, use our KitKat installation tutorial on the S3 mini, which will serve as your guide.
Compatible with i8190, i8190L and i8190N
You can download the Android Lollipop 5 ROM for the SIII mini here. Choose "Samsung Galaxy S3 mini" from the drop-down options drawer on the left. On the right side choose "Android Open Source Project". Lollipop 5.0 (AOSP) 2014/11/06 will appear below. On the right, check that the "recovery" box is selected and click on "download" to download. It is compatible with i8190 , i8190L and i8190N models .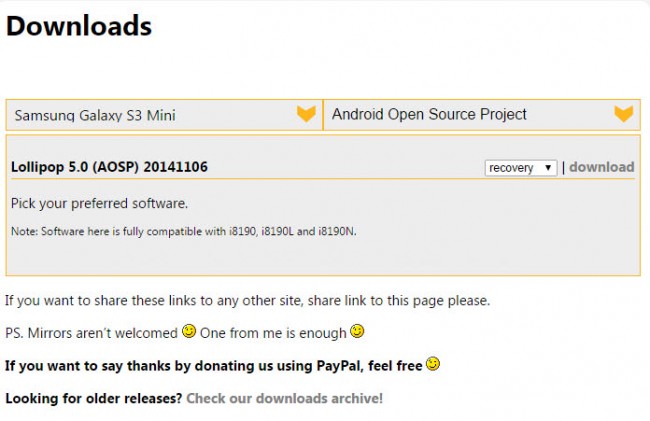 This ROM will surely be in constant development and new versions of it should be published in the link mentioned above. My recommendation would be to wait a bit for them to release a better version with fewer bugs before trying it.
Important : It is VITAL that you make a complete backup of your phone (nandroid backup) before installing this ROM. Remember that this procedure is risky and you can damage your phone. Neither the author of this article nor this website is responsible for problems with your device. (Source)
Related articles :
How to download and install Android 4.4 «KitKat» on the Samsung Galaxy S3 mini
10 pages to download Samsung and Android firmware (ROM)
SAMMOBILE: What is it, how to download Samsung firmware and alternatives
Receive updates: SUBSCRIBE by email and join 10,000+ readers. Follow this blog on Facebook and Twitter.