In this article, we provide advice for parents when their children want to use certain apps and what to look out for. Many parents often wonder whether the child should already have a smartphone. After all, a smartphone not only offers the possibility of making calls, but also downloading game apps, going online and much more.
Therefore, we often get questions in this regard and therefore, from our point of view, want to examine this matter in more detail. It should be said that this is our personal opinion and is not supported by studies or the like.
If other parents have also had experience on this topic, we would be very happy to receive a comment, because this creates an easy exchange between parents on how to deal with this topic.
Dangers when using a smartphone and the apps
There are some dangers lurking when using a smartphone with Android and iOS operating systems. For this reason, parents should take a closer look at this topic. We give some tips and tricks on how to proceed on this topic.
In the following we want to name a few dangers and how to counteract them. If you have an Amazon Kindle tablet, you can even restrict its use here (e.g. read books indefinitely a day, but only play 2 hours a day).
Play apps with high addiction potential
A great danger is the sometimes high addictive potential of the games, which can take a few hours a day. Be especially careful when games include in-app purchases to speed things up. Children in particular are impatient and can then quickly spend a lot of money (see Deactivating in-app purchases)
Parents should best limit the usage time so that the children do not spend hours on any game apps. In addition, it always makes sense to simply ask the children what they are playing, but do not sound derogatory, but interested in the topic.
Unsuitable games for children
There are also numerous unsuitable games for children. App developers must indicate the category in which their game / app falls and, for example, includes violence. However, parents still have to activate this age restriction for the children's smartphones, otherwise all games and applications that can be downloaded are listed.
At best, you should take a quick look at the games beforehand or play with your child for the first few minutes so that you can decide whether the game is suitable or not. Nevertheless, children should learn to deal with it independently. Parents should only be on hand to provide advice and support, but not monitor everything closely.
We only recommend using a smartphone from the age of 12. Communication applications such as WhatsApp and Co otherwise encourage children to write each other every minute.
Chats and communication options
In game apps, where multiplayer fun is paramount, it is also important to make sure that the game includes a chat. The app developers have integrated backups so that the game is also written, but it can still happen that some users misuse the chat function.
Here parents should talk to their children about the dangers and give advice on what can happen and how to behave. At the same time, this is the best way for children to learn how to deal with these situations.This could be of interest to you Our smartphone recommendations for Christmas 2019 – Find out more!
Parents should make these settings on the children's smartphone
Finally, we want to give a few tips for parents about which settings should be made on the children's smartphone or tablet. Accordingly, parents should also set up their child's smartphone and not leave it to the offspring. Below we give you setting options for Android and iOS (iPhone, iPad) that parents should make. As a result, there are at least no nasty surprises later when looking at the telephone bill.
Disable in-app purchases
The most important point is probably the deactivation of in-app purchases, otherwise children can spend a lot of money here without their parents noticing. Accordingly, it is important to deactivate it or to activate it only after entering the password.
We described how this works in this tutorial ( deactivate in-app purchases on Android and iOS ).
Block unsuitable apps from the outset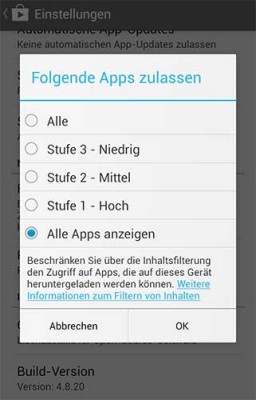 Block apps on Google Play – However, you are dependent on the developer who classifies his app accordingly
Parents should also block unsuitable apps from the outset. However, this blocking is related to the specification of the app developers, who can determine who the app is suitable for and who less. Special apps cannot be blocked.
We also have a tutorial for you that shows you how to proceed with iOS (i.e. iPhone, iPad) and Android.
On Android you will find the setting on Google Play. Go there to "Settings" and here you will find "Filters for content". There you can now choose which apps are allowed and which are not. Google specifies level 1 to level 3 here. For children, we recommend only permitting level 1 apps.
For iOS, this setting can be found under Settings -> General -> Restrictions. There you can also choose which apps should be allowed and which should not. Parents should definitely deactivate 17+, 12+ and at best 9+ in children.
Leave mobile internet activated only with Flat
A third point that is often neglected is the mobile internet. Smartphones would prefer to be constantly connected to the Internet. If you still have an older SIM card, you can get rid of numerous euros per month here. Accordingly, it should be ensured that the mobile Internet should only be activated when there is an Internet flat rate. Otherwise the mobile internet should be deactivated.
Parents should also make sure that children cannot undo this attitude.
These were our tips for parents when they want to sniff a smartphone for their children and what needs to be considered.