Check out these 9 tricks to take advantage of Tinder for free and make the most of the application's potential without having to spend money on it
The applications to flirt will try to convince you so that sooner or later you end up paying one of their subscriptions thanks to their psychological techniques: leaving you with honey on your lips, appealing to your curiosity, etc. Despite this desire to win subscribers at all costs, there are 9 tricks to take advantage of Tinder for free that can allow you to meet interesting people without having to invest a euro in the application.
HOW TO USE PASSPORT FOR FREE ON TINDER
During the months of the pandemic, Tinder activated the Passport function so that all its users could broaden their horizons and meet people from all over the world, but over time the function was only available again on Tinder Gold and Tinder Premium, the services of app payment. In order to meet people from all over the world, we will have to access our profile, click on 'Settings' and activate the 'Global' tab, to be able to see profiles from other parts of the world .  
Another alternative is to use the Fake GPS Location app , which allows you to fake your location. In this article we indicate the steps to follow to be able to modify our location in Tinder and meet people from other places. However, it should be kept in mind that the developers are always trying to cut this type of shortcuts and they are introducing more and more improvements to the application that affect the effectiveness of the tricks. 
HOW TO FIND OUT WHO GAVE YOU FREE LIKES
Another aspect that has undergone a notable change in Tinder is related to how to know who has given you free likes . Previously, users were able to view photos of their suitors by entering HTML code on the Tinder webpage via computer, but this trick recently stopped working. Unfortunately, to know who has liked you, you will have to sharpen your eyes to identify the blurred landscape and composition that appear on our matches page when exploring the profiles .
HOW TO GET FREE SUPERLIKES ON TINDER
Another possibility that opens up before us is how to get free superlikes on Tinder . We recently discussed this topic in tuexpertoapps , and we just have to go to the 'Settings' section and click on 'Get rewards'. By sharing a link with a friend so that they can create an account on Tinder, we can get up to 25 super likes with which we can let our crushes know that we like them more than usual.
PROMOTE THE ACCOUNT ON TINDER
Sometimes it is inevitable to have the perception that our profile is stuck on Tinder, so it is convenient to change the approach to promote the account . The platform usually rewards new users with greater exposure to other users, so it is not a bad idea to close our account and open a new one every so often. In this way, we will have greater visibility for a short time that we will have to squeeze as much as possible before the effect is diluted.
TAKE ADVANTAGE OF THE 'DISCOVER' FUNCTION
There is another feature of the app that many users are unaware of or should enhance further: it takes advantage of Tinder's 'Discover' feature . By clicking on the second icon in the lower menu bar, represented by three squares and a magnifying glass, we can find profiles that are looking for a specific plan more efficiently. In this way, whether we simply want to strike up a conversation or are looking for a movie lover to share a movie night with, we can enter its different sections and get more out of Tinder.
ANALYZE PROFILES AND LOOK FOR ORIGINALITY
There are tricks that have nothing to do with the application and its possible programming errors, but rather with the attitude with which the user approaches its use, which is why it is important to analyze profiles and look for originality . Tinder is conceived as an express catalog of users in which we see their main photo and in a matter of seconds they are accepted or discarded. For this reason, it is vital that we enter with more analytical eyes and see what patterns are usually repeated between the profiles.
When we detect that many users are betting on beach photos, it is likely that we will have more opportunities to generate a first impact if we use a photo with a suit. In the same way, a black and white photo can provide the necessary point of originality among so many colorful profiles that seek to surprise. Our positioning will depend on the degree of knowledge we have of "the competition" and our ability not to be one of the herd.
ATTENTION TO THE DESCRIPTION
Although the photograph is of paramount importance, it is no less important on Tinder to pay attention to the description . We are not filling out a resume in which to add our life trajectory, but rather we have to look for a message that attracts attention. The bet on the absurd, a funny phrase that breaks the ice before even starting to speak, a direct call to action… The possibilities are endless, and it is convenient to take risks in the description, so here are some ideas to apply to your profile .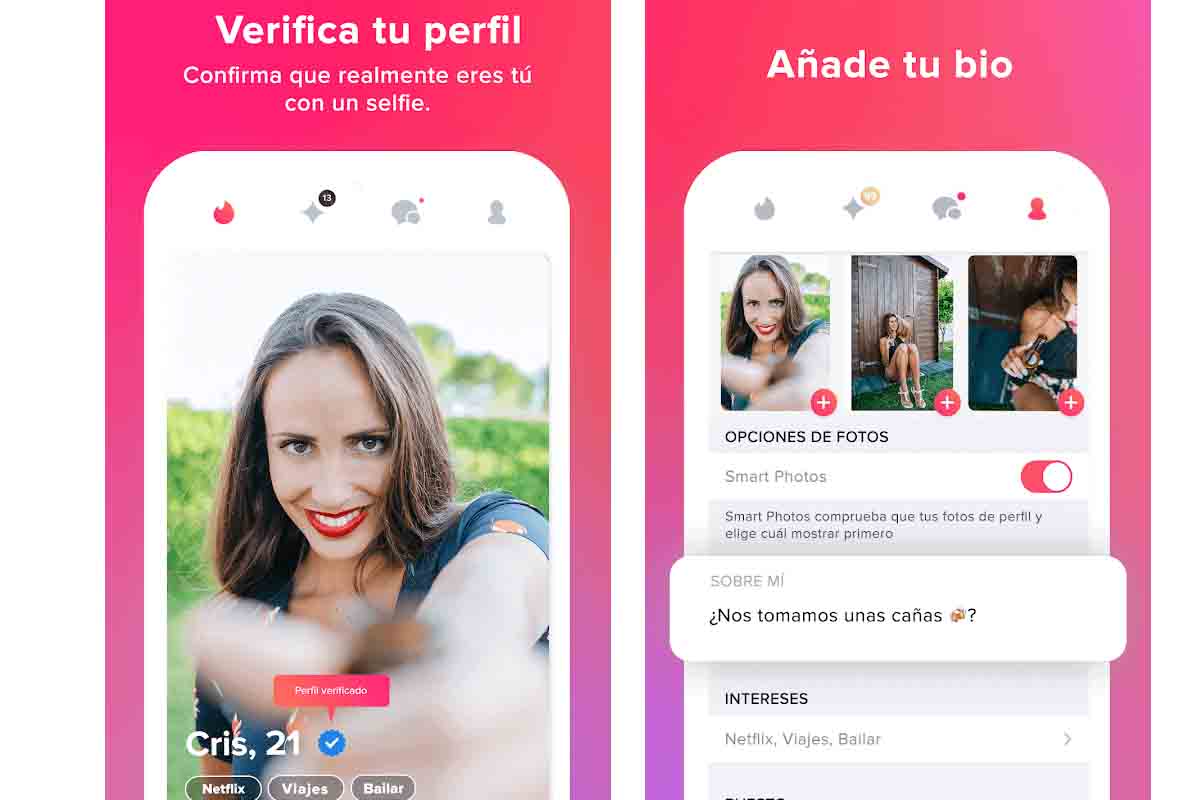 DOSAGE OF LIKES
Another factor by which users fall into discouragement comes when it is verified that there are no more likes to distribute and no positive result has been achieved. The temptation to use Tinder as a binge of viewing profiles until the application limits us is great, but we have to be one step ahead. Establishing a daily likes strategy lower than the maximum allowed can be positive , since on the one hand you show the application that you are constantly active in it, and on the other, you have the option of getting to know fewer people but in a more progressive way, provided that the care of our photos and description has been correct. 
SPECIALIZATION
Lastly, the potential of specialization should not be underestimated . Entering Tinder with the intention of attracting the attention of the whole world is utopian, so it is interesting to promote what makes us different. If we are lovers of heavy metal , a photo with a t-shirt of our favorite band can be more useful to find someone with whom to have good chemistry than if we upload one with a suit and shoes. It's all about knowing each other perfectly and being clear about what kind of person we want to find on the other side.