Use an APP to reduce the brightness of the phone , even below what the screen settings allow.
Excessive screen brightness can cause eye discomfort and headaches. This is especially true at night, where ambient light is minimal.
If you are sensitive to these problems, you can use an application to decrease screen brightness. You can configure them to adjust the amount of brightness according to the time, automatically so that you forget about the subject. And some also offer protection from the dreaded blue light that damages your eyes and causes insomnia.
How to lower the brightness of the cell phone WITHOUT applications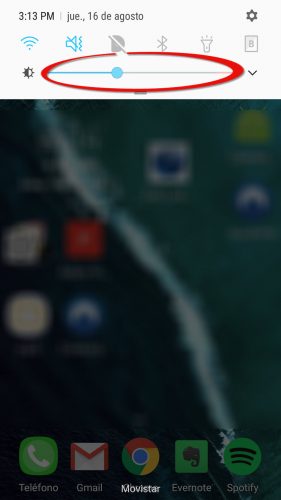 Before installing any application, try lowering the brightness from the Android system. You should simply lower the notification bar and you will see the brightness control that you can slide laterally to configure the amount of light.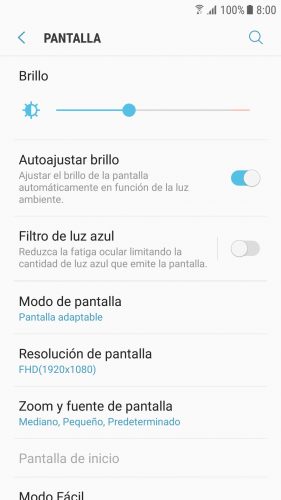 If you can't see the brightness control, go to Android System Settings, "Display" option. There you can even activate the automatic brightness or the blue light filter.
APP to reduce glare
Dimly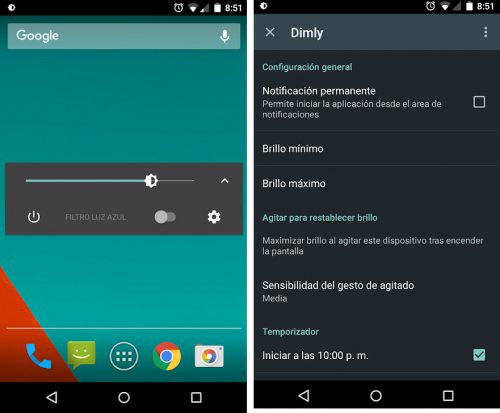 One of the best APP to lower the light on the screen is Dimly. Opening it immediately gives you access to the brightness adjustment panel and blue filter. I have also tried Screen Filter, but in addition to being very basic, I have not had a good experience because the phone has not responded at times.
You can set a minimum and maximum brightness, as well as adjust the off time. Unfortunately, the scheduled startup feature is only available in the paid version.
CAUTION : When you use an app like this, gradually lower the brightness. If you lower it too much, you can finish completely darkening the screen and not being able to control the mobile.
Advanced applications to lower brightness and blue light
Twilight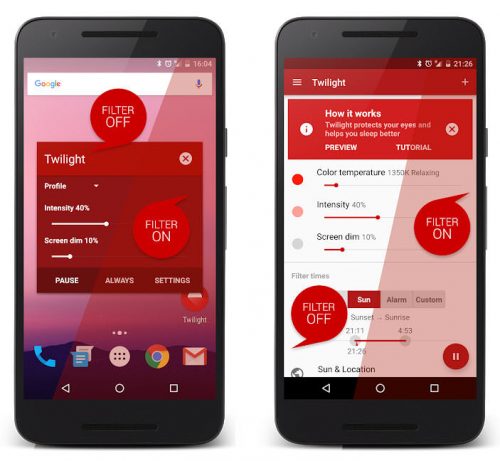 A very complete application. In addition to being able to activate itself and decrease the brightness according to the time that is configured, it also allows adjusting the color or tone that the screen will take ("Temperature color").
It additionally offers profiles with a preconfigured amount of gloss  to always have them available under various circumstances.
According to the developer, this application should be used if you are having trouble sleeping  due to cell phone use at night.
Lux Lite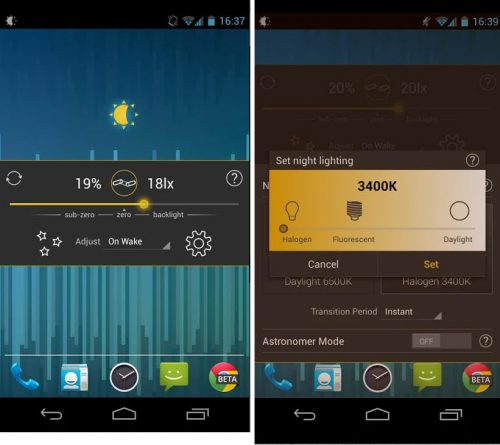 It is an advanced app although very unfriendly. It offers an option to regulate the brightness during certain time intervals and also something very interesting: it can control the brightness automatically according to the amount of ambient light . The application can detect this information through the phone's ambient light sensor or even through its camera.
It also offers profiles that can be chosen for different situations ( in bed, low light, night, without lights , etc.) as well as a control to regulate the color temperature of the screen (Candle, Halogen Light, Fluorescent Light and Daylight) ).
CF Lumen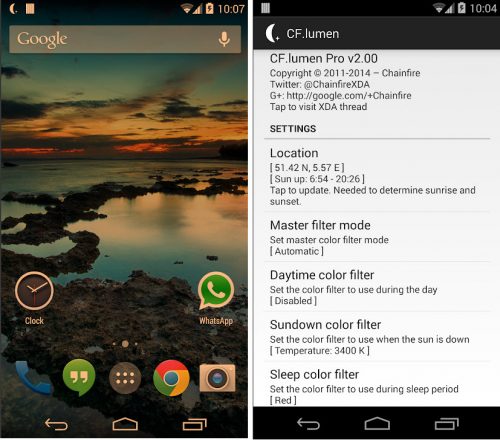 This is an app more focused on reducing blue light, and is one of the best in this regard. It offers yellowish and reddish filters, as well as automatic activation according to the place. Its disadvantage is that it requires Android 5 or higher.
Another more basic and simple app that you can try to counteract blue light, which is what causes eyestrain and prevents sleep, is Blue Screen Filter.
Learn how to switch between automatic and manual brightness, without going to Android Settings
I bought my first digital lenses with blue filter and anti-glare «Crizal»
How to enable or disable the dark theme of WhatsApp
Receive updates: SUBSCRIBE by email and join 10,000+ readers. Follow this blog on Facebook and Twitter.