If your Android phone won't boot, stays on the power-on logo, or has suffered a constant bootloop or reboot, the solution is probably to flash or reinstall the official firmware or ROM. Basically reinstall Android system.
Below we indicate the best page to download free Android firmware for Samsung and other brands, as well as alternative pages in case you can't find it in the first one.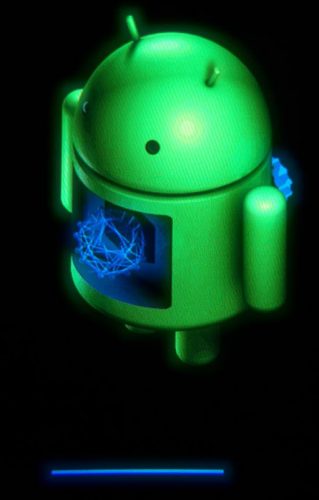 Warning : Installing the firmware manually as above is a dangerous procedure. It can damage your Android cell irreparably. Only proceed if you know what you are doing. If you are only going to update the Android software, whenever possible use the update option of the device itself. Another recommended method to update is to use the official desktop client. For example, Samsung offers Smart Switch or Kies software for PC and Mac.
Article Index
Android Firmware What is it?
Mobi Firmware, the best page

Download official Android ROMs

Other websites to download Firmware

Firmware File
Needrom
4PDA
LG firmwares
Huawei, Xiaomi, Asus, Xperia, Lenovo
XDA Developers

Download Firmware for Samsung

Sammobile
Updato
SamDB
Samsung Updates
Android Firmware What is it?
The firmware is in charge of interpreting your actions and communicating them to the electronic components of the phone so they can carry them out. For example, answering a screen touch correctly.
It is quite common to refer to the firmware as the Android operating system (which is partially correct). The firmware is also known as ROM. These are the abbreviations for READ ONLY MEMORY or read-only memory, which is where the firmware is saved. Obviously it is not entirely correct, but if this is the term of your preference, below we show you the best pages to download rom from Android phones.
Mobi Firmware, the best page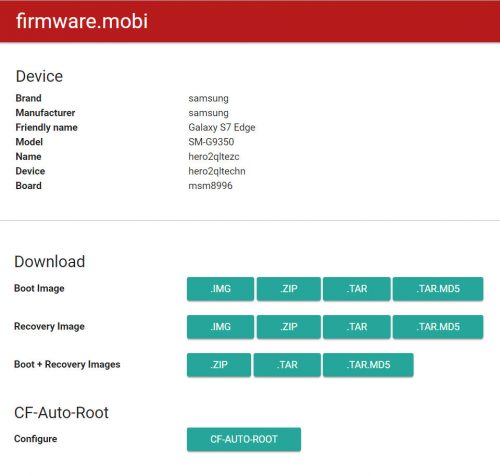 Mobi Firmware is surely the best page to download Android firmware (although not the most complete). Here you can download official Android ROMs. You'll find it for various brands of Android devices, most of them Samsung, Motorola and Google.
After searching for your cell phone model, you will generally have to download the Boot + Recovery Images option (unless you know what you are doing). That combination is supposed to be the complete firmware.
Download official Android ROMs
CF Auto Root option allows you to get rooted firmware. On the configuration screen for this option, leave everything as default (unless you know what you are doing) and press the Generate CF Auto Root Package button. This advanced configuration is what makes this page unique and special.
You can download any firmware from firmware.mobi, without registration, directly from there because the files are hosted on it. There is no download speed limitation, like some pages in this listing.
Other websites to download Firmware
Firmware File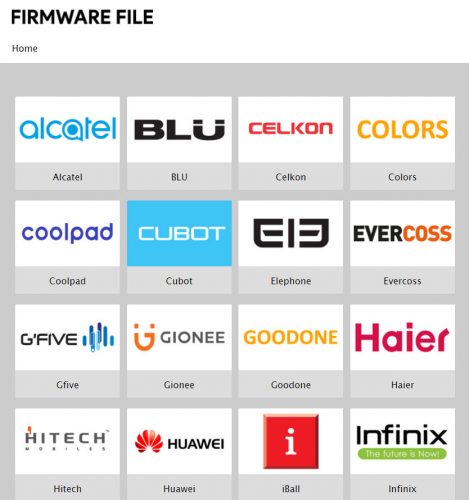 Although this page does not offer the options mentioned above to customize the firmware, it does have a very diverse database. In addition to well-known brands such as Samsung, you can download the firmware of lesser-known Android phones such as Xiaomi, Blu, Bluboo, Elephant, Cubit, etc.
On the page they offer a generic tutorial (in English) to flash the firmware on all brands. The firmware is in a .ZIP file, hosted on the Mediafire server and you can see the links without registering.
Needrom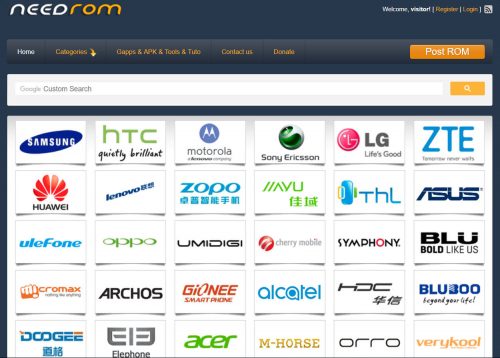 You need to create an account and disable the ad blocker (in case you have one) to be able to download firmware, totally free. On the download page you will find information on how to install the ROM, in English.
4PDA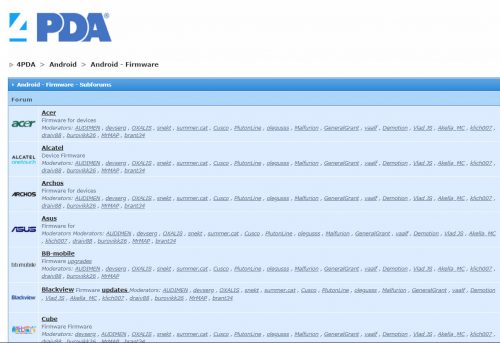 This is a Russian page, so you will have to use the "Translate" option of the browser. In the forum of this website you have available a multitude of subforums with the firmwares of Android devices from multiple brands. I have not even had to register to download the ROMs available here.
It is possible that in the 4PDA database you will also find the official firmware of your mobile.
LG Firmwares
The third and complementary page to download free firmware for Android devices. In this case, only from LG, Samsung and Apple.
No registration or similar procedures are required to download the ROMs. Since the files are hosted right there, they are downloaded directly.
The disadvantage is that not all the models mentioned there have firmware to download.
Huawei, Xiaomi, Asus, Xperia, Lenovo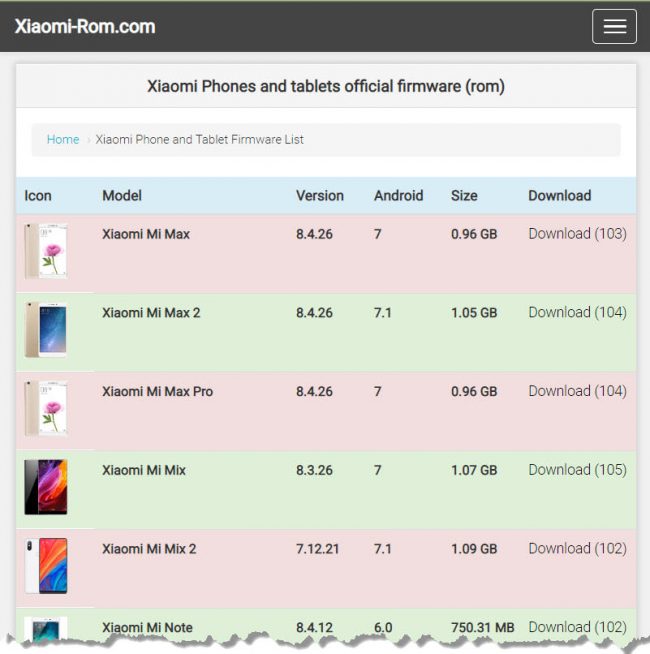 huawei-firmware.com/phone-list/
xiaomi-rom.com/firmware/
asus-firmware.com/phone-list/
xperia-firmware.com/phone-list/
lenovorom.com/phone-list/
All indicated URLs appear to be from the same owner. They have ROMS for a wide number of models, which can be downloaded for free. They even offer instructions on how to flash the firmware on each model, albeit in English. However, we have not tested the ROMs on these sites. We cannot confirm if the firmware is "official" as mentioned there. Therefore, proceed under your own account. Don't forget to put the "/" at the end of the URL to enter.
XDA Developers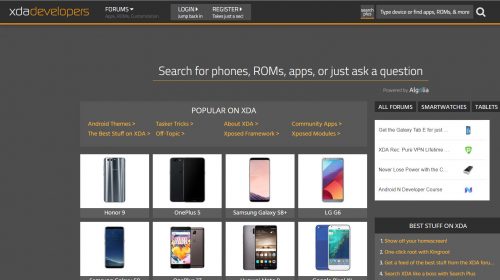 This is a general forum on Android technology. It is not specific to download Android firmware, but you may find roms that you did not find on the previous pages. Or you can request one of its members. You can also find tutorials for flashing the firmware on a specific model.
Download Firmware for Samsung
You can flash this firmware with the Odin computer software.
If you prefer to download exactly the same firmware that is installed on your Samsung, use the Phone Info application to see the Region Code information and any other that you need (in case your cell phone is working normally).
Sammobile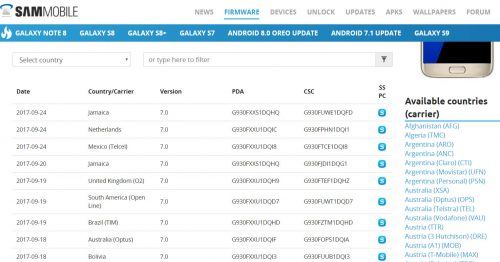 This is a page to download firmware for Samsung exclusively. In it you will find official Samsung ROMs, either from the manufacturer or a specific operator. I personally have never had a problem with the firmware on this page.
The downside is that prior registration is required to download the firmware. Also, free registered users have a download speed limit.
All firmware in SamMobile is in ZIP file and can be flashed with PC Odin program.
Updato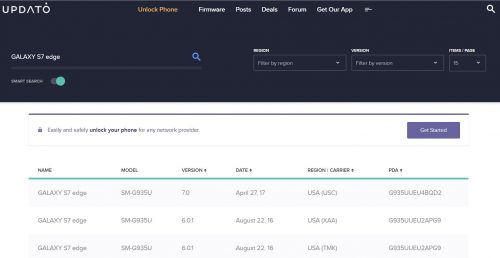 This is a page very similar to sammobile. No registration is required and initially there was supposed to be no speed limit, but currently downloads are very slow.
SamDB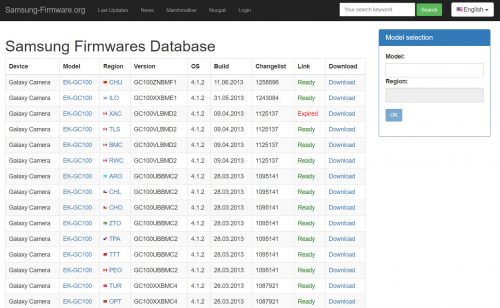 Formerly under the domain samsung-firmware.org, this is another page to download Samsung firmware. Exactly the same limitations as sammobile, such as the required download and registration speed limit. Likewise, the firmware comes in a ZIP file that must be flashed with Odin.
Samsung Updates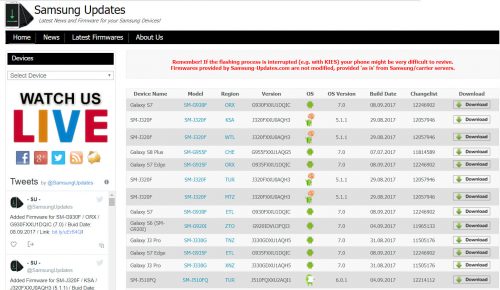 Another site very similar to the previous ones, which claims to have official Samsung firmware from the manufacturer and / or operators. The good thing is that no registration is required to download.
The downside is that the firmware is hosted on third-party servers that generally have speed limitations. I have tried downloading firmware from the three servers and only one was downloaded at low speed (rapidgator.com).
The mobile version of this page is lousy. ROMS cannot be searched or downloaded. For this reason, activate the option "Request desktop website" in your browser.
SAMMOBILE: What is it, how to download Samsung firmware and alternatives
Changing the ROM unlocks a mobile device or not?
How to solve problems generated by updating your cell phone
Receive updates: SUBSCRIBE by email and join 10,000+ readers. Follow this blog on Facebook and Twitter.