Some messages appear protected on social media, see why Twitter won't let me see sensitive content
When browsing social networks, we may occasionally come across a message that prevents us from seeing a tweet, leading us to the question of why Twitter does not let me see sensitive content . When installing the social network application, the default configuration seeks to protect us from some tweets whose content may threaten our sensitivity, so we are facing a white version of the social network .
We can get rid of these messages by following a few simple steps in the application configuration, although the content that we can see without notice can be compromising, so it is worth assessing whether we want to be exposed to it directly or if we want to keep the Twitter notice and decide if we want to see it or not (if we are on public transport or in a crowded place, it is usually a good idea to leave it activated).
HOW DO I GET TWITTER TO LET ME SEE SENSITIVE CONTENT?
Interested in knowing how to get Twitter to let me see sensitive content ? This is the process to remove that warning and view all tweets directly, regardless of their content . The first thing to do is display the side menu from the left side of the screen and access 'Settings and privacy'. We look for the 'Privacy and security' section, and then click on 'Content you see'. We'll need to make sure the 'Show photos and videos that may contain sensitive content' tab is turned blue. In this way, there will be no tweet vetoed by the platform.  
HOW TO REMOVE SENSITIVE CONTENT ON TWITTER
On the contrary, if we use Twitter in public environments, it is likely that we will want to have control over how to remove sensitive content on Twitter . In this case, the process is similar, but instead of activating the 'Show photos and videos that may contain sensitive content' tab, we will have to deactivate it.
When we see this tab in grey, when browsing our timeline, Twitter will notify us when a tweet may be controversial or offend our sensibilities, leaving in our hands the possibility of seeing it or not.
Another alternative that we have at our disposal is to silence certain controversial words, something that we already detailed in a past article. Thanks to the option to silence words, we will be able to determine in the application what it is that we do not want to receive any information about. For example, if we add the word 'violence', no tweet that includes this word will appear in our TL, even if it was written by a user we follow.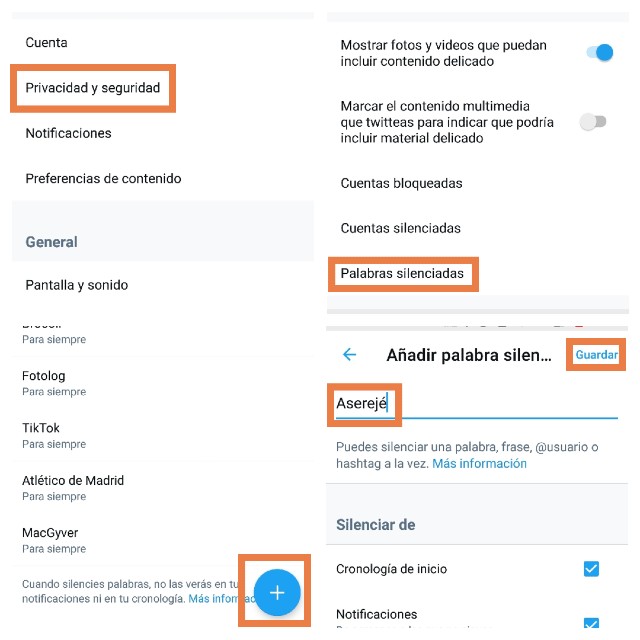 WHAT DOES "THIS TWEET MAY CONTAIN SENSITIVE CONTENT" MEAN ON TWITTER
The criteria of the social network to determine which messages are shown and which are not can be confusing, so it is convenient to detail what "this tweet may contain sensitive content" means on Twitter . When we see this warning, the platform has made a first filter detecting a publication as sensitive due to its content, but it can be of a very different nature.
Sensitive content on Twitter includes messages that include graphic violence in the form of photos or videos, content that is not suitable for minors (nudity, sexual content, etc.), violent sexual conduct, or gratuitous gore. Hate messages will also be marked as sensitive content, although it has been seen repeatedly that certain political leaders have been able to spread this type of message without being conditioned by the platform.