Millions of people have long understood and realized that ordering goods via the Internet is profitable and convenient. This even applies to clothing.
Some people are intimidated by the prospect of ordering clothes without trying them on. But this issue is solved using the dimensional grids presented on the sites.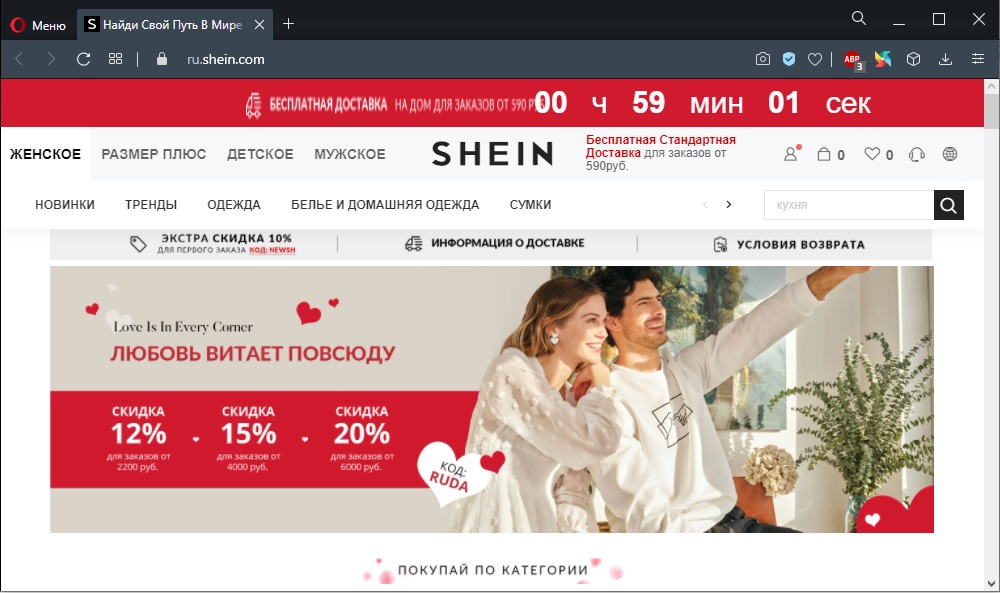 An example of a decent online clothing store is Shein. Therefore, it will be interesting to get to know him, as well as learn how to place orders and receive them in Russia.
First meeting
First you need to understand what it is.
You can often come across the opinion that this is a marketplace. A place where you can buy products from different brands and manufacturers. Something like AliExpress, Ozon, or Joom.
But this is not the case. Here we are talking specifically about a Chinese online store that specializes mainly in clothing. Moreover, all products belong to a single trademark. This is Shein. There are no third party products here.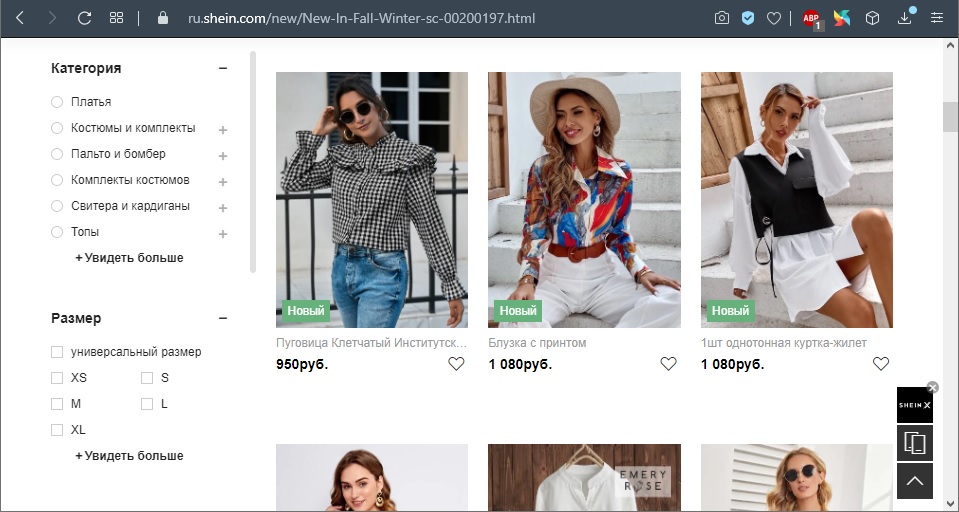 The range is really huge. There are catalogs of women's, men's and children's clothing. Certain electronics, beauty and health products are also available. Pet and hobby products are also available.
Of course, the company is not capable of producing everything at once. She acts as a retailer. He orders production in different companies and sells these goods under his own trademarks.
Discounts and bonuses
The first thing I would like to discuss is the possibility of receiving various discounts and bonuses from Shein.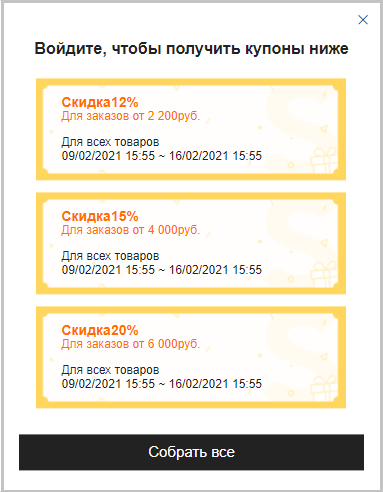 A few examples of what you can get on the site and use for better purchases:
registration provides a new user with a 10% coupon when purchasing goods worth more than 1000 rubles;
100 bonus points are credited to your account if you confirm your email address;
by filling in your personal data, indicating your gender, date of birth and clothing preferences, you will receive another 100 points.
Plus, in the shopping process, new bonuses, promotions, discounts and special offers regularly appear. Some come as percentages and others as bonus points.
IMPORTANT.
For reference. 100 bonus points equal $ 1.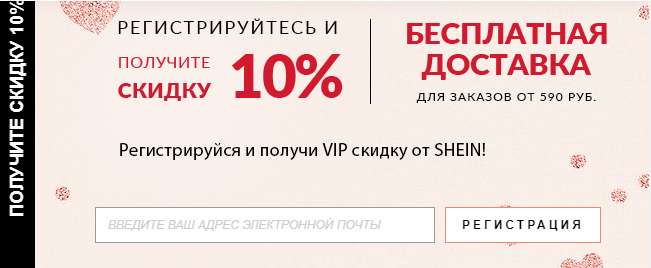 Therefore, registration definitely makes sense. And this despite the fact that you can make purchases without registration.
Step-by-step instruction
Now to the question of how you can order goods through Shein and what you need to do for this.
The whole process is conventionally divided into several stages:
selection of goods and adding to the cart;
application of discounts;
delivery registration;
payment;
tracking;
receiving.
It is worth telling in detail how to order goods from Shein and what awaits the user in the process of online shopping through this Chinese online store.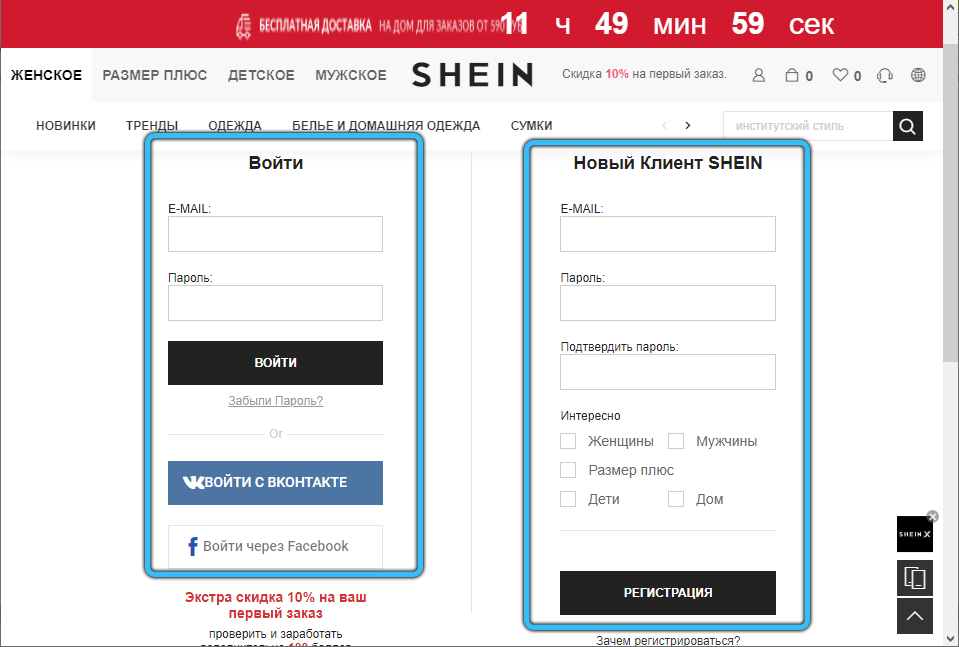 But first you need to install a mobile application, or go to the site through a browser on your computer. Objectively working with the application is easier and more convenient. Here you can immediately go through the registration procedure. Everything is standard. Password, name, email, etc. Then confirmation of the email address, and access to your personal account is open.
Choosing and adding to cart
Leafing through the catalogs, you are looking for the products you need. Here you can decide on the size, color and other parameters. It all depends on which product category you choose.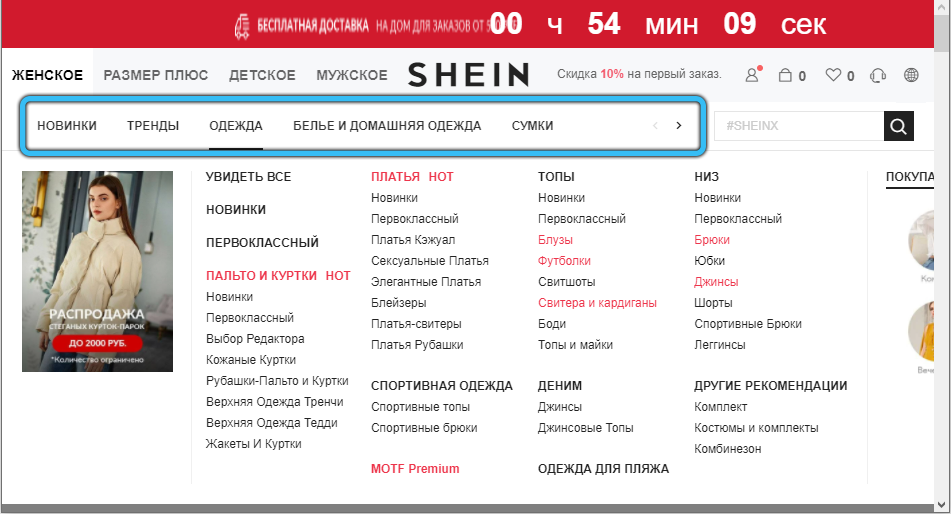 At the bottom of the display, there is an Add to Cart button. If you are not sure yet, but are potentially considering a particular product for purchase, you can click on the heart image next to the add to cart. This will add the products to your favorites list. Next, decide what to take from everything marked.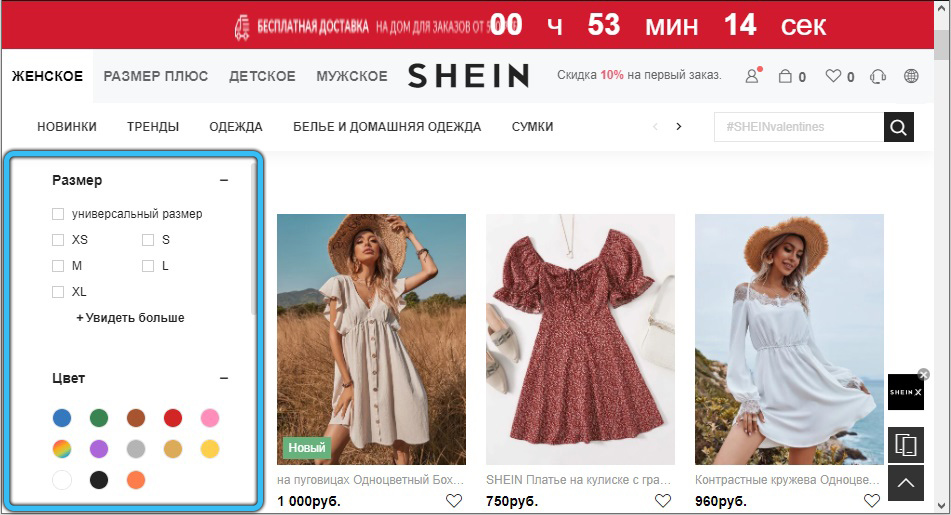 After adding 1 unit of the product to the cart, you can continue shopping.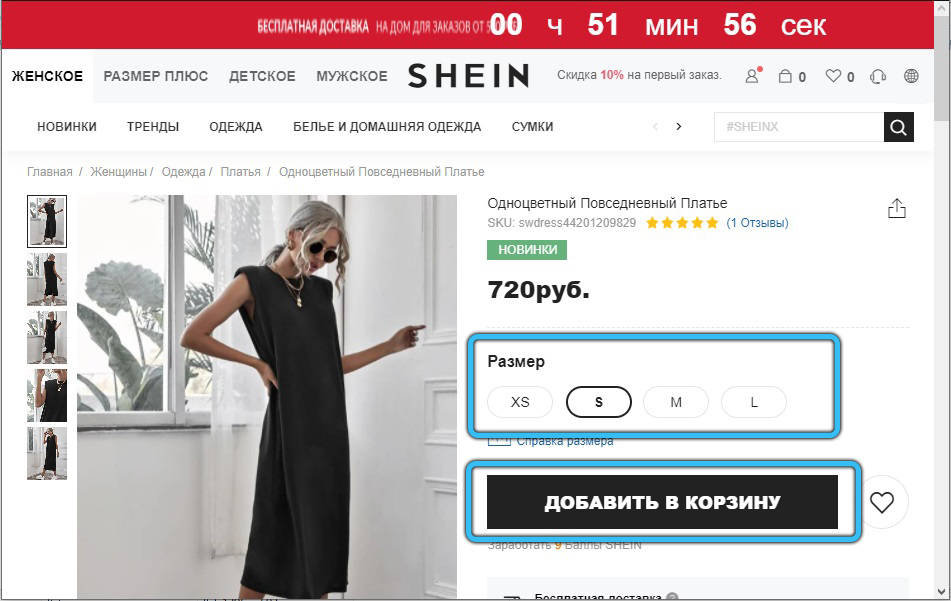 Just be careful. When choosing, always see a specific dimensional grid, and also read reviews. Moreover, reviews are more important, because in them customers immediately write about the existing shortcomings. Yes, a number of comments in a foreign language. But no one bothers to use the auto-translator.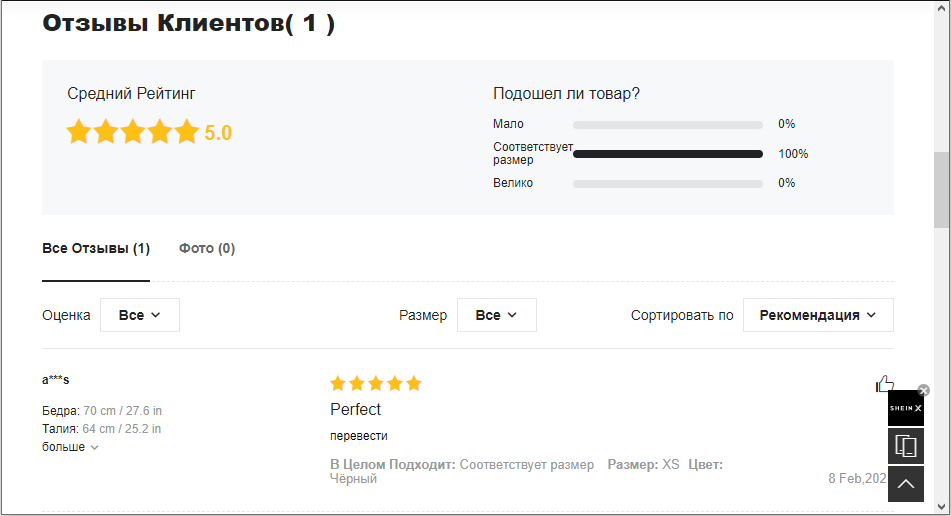 Using discounts
The Shein store allows you to earn bonus points and discounts to use for your purchases.
The only question is how to make money and also get those points that Shein offers.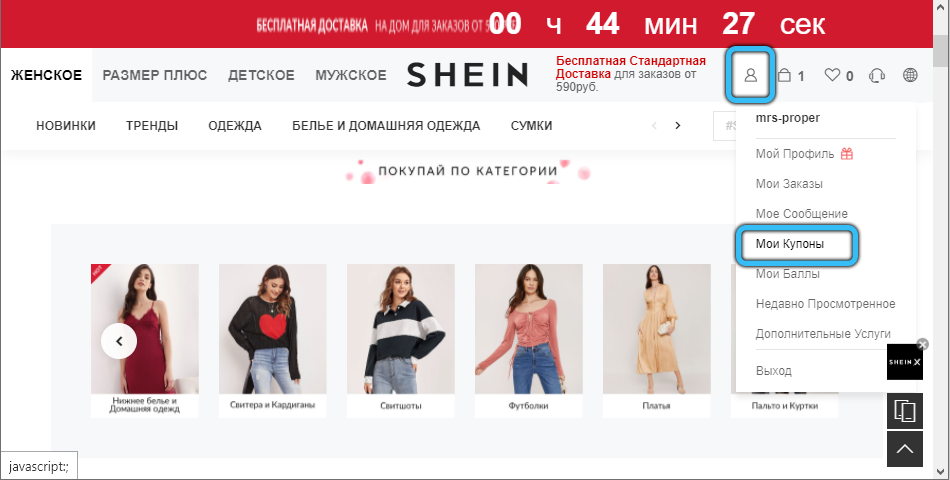 In fact, discounts are divided into 2 categories:
Every week, new coupons are sent to the personal account of a registered user. Moreover, they have different sizes, and are designed for different amounts.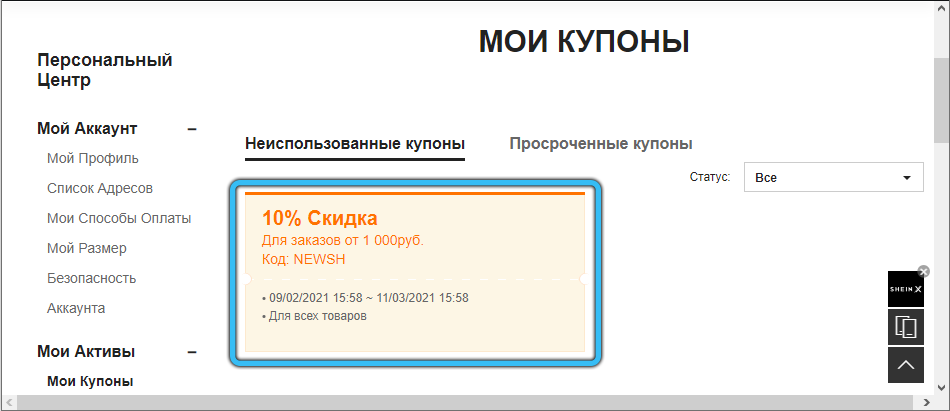 The most popular are:
when ordering from 1990 rubles a 10% discount;
if you order for 3990 rubles, then the discount will be 15%;
20% is given for the order amount from 5990 rubles.
But there are also such options when a 10% coupon goes for any amount from 1 ruble. It is important to look closely at the expiration dates, and try to check the cabinet more often. Sometimes coupons are very beneficial.
The customer can also earn points at the Shein store and use them for purchases. 100 points is $ 1. The exchange is made when placing an order. Just keep in mind that you still need to have time to use them.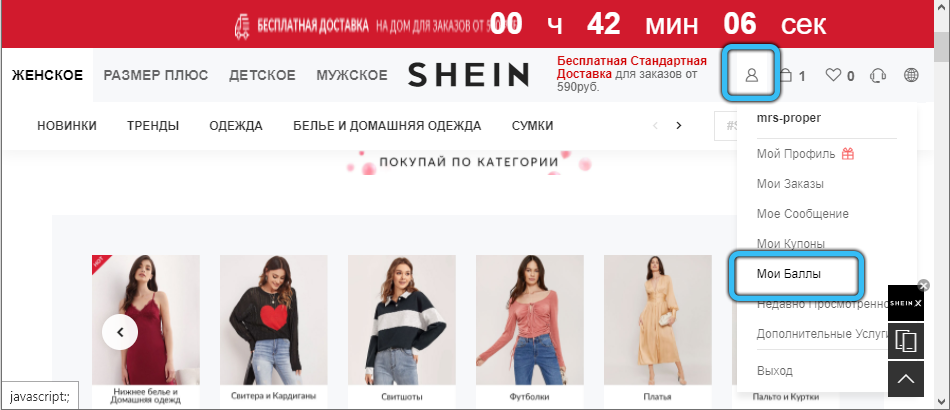 Points are awarded for the following points:
registration and confirmation of email address;
daily visits to the site (preferably 7 days in a row);
writing reviews with photos;
viewing streams.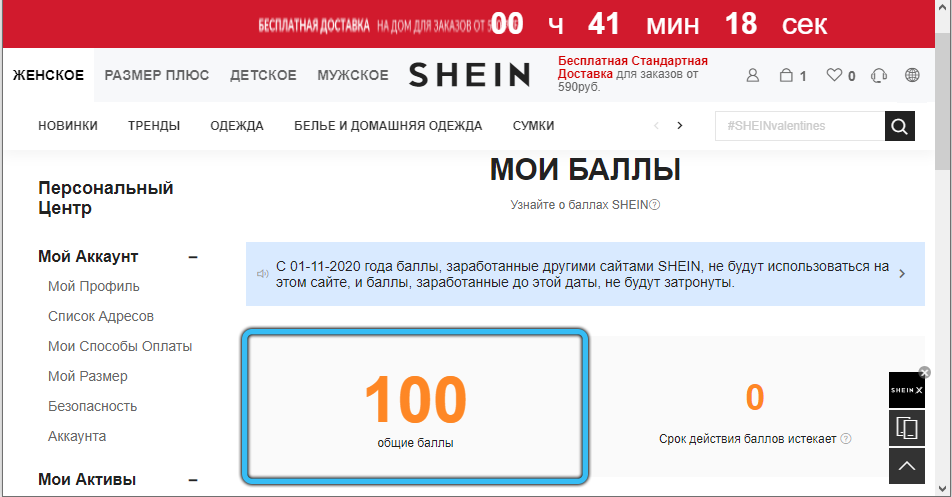 Also in terms of discounts, flash sales are very interesting. Here, a list of things is pre-published, and a time for a sale is appointed. Everything happens quickly, but discounts reach 80%.
Flash sale lasts 2-24 hours. No more than 200 units are allocated for each promotional product. You need to buy quickly in order to snatch a tidbit for a penny.
It's also nice that bonuses and coupons can be used at the same time.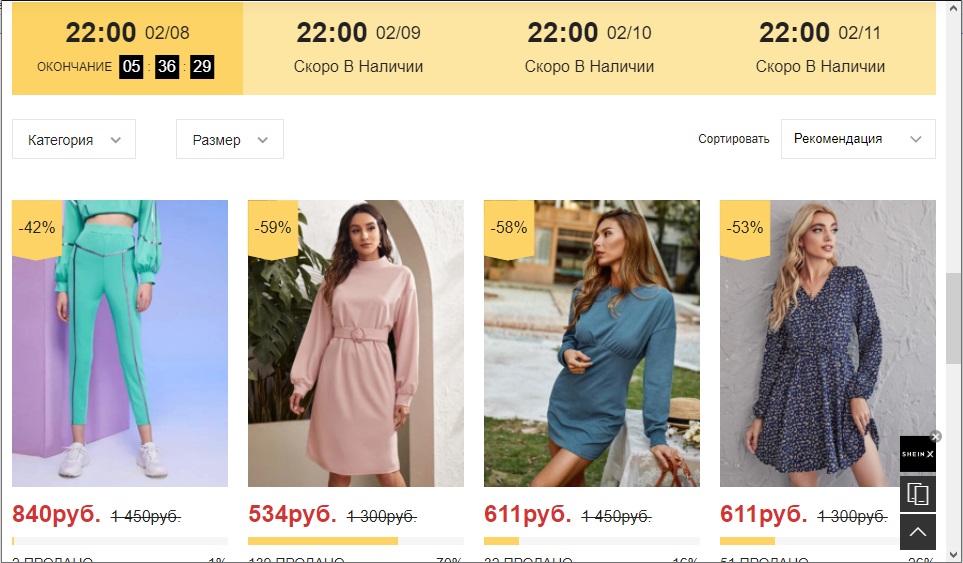 How to arrange delivery
Now about how the delivery itself takes place when shopping in the Shein online store.
Here you should collect everything you need in the basket, and then click on the "Pay" button. You will be transferred to a special window for registration.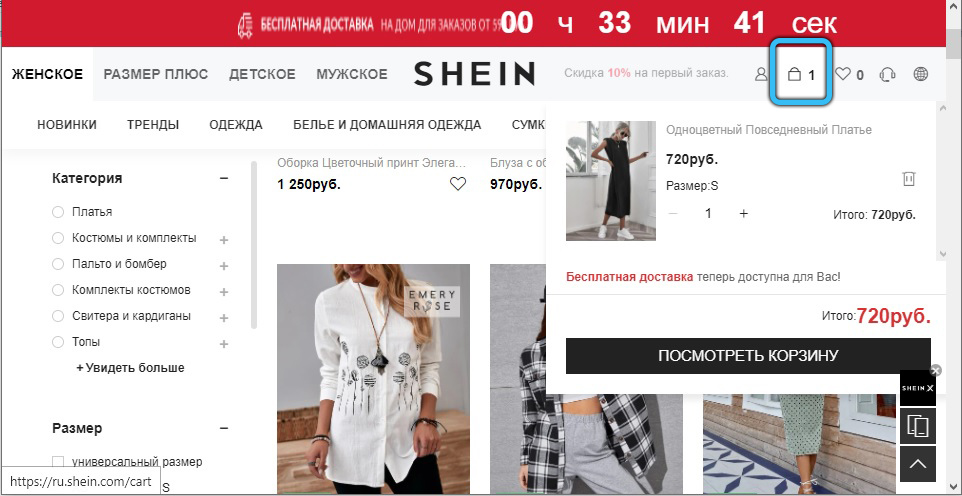 The details of the recipient are indicated here. Namely:
surname, name and patronymic;
delivery address;
mobile number.
The delivery itself is offered in 2 types. It is regular and express. In the first case, you need to pay 270 rubles. For fast delivery, you will have to pay 1590 rubles.
IMPORTANT.
If the order amount is from 590 rubles, then you do not need to pay anything for regular delivery. It will be free. And if the amount is from 7900 rubles, then express delivery will be free.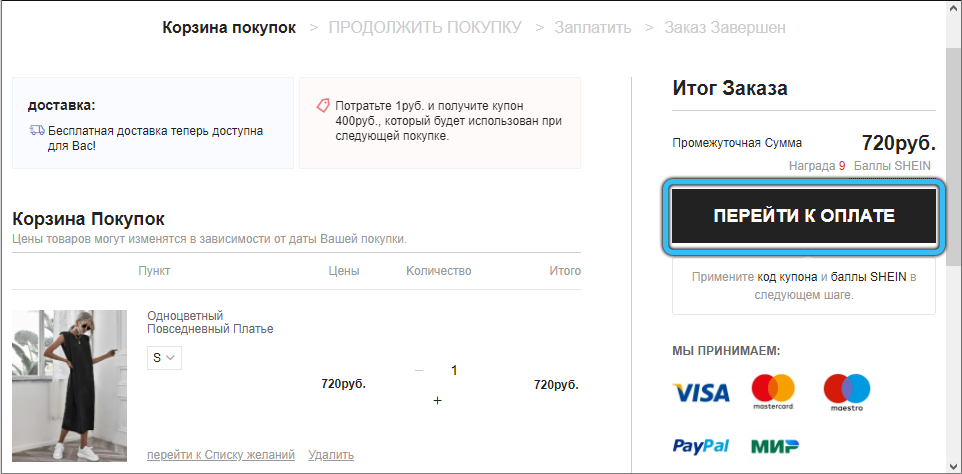 That is, it is really profitable to make good shopping for a decent amount, and not pay for delivery.
How much express delivery is necessary, decide for yourself. Most clients get by with the usual conditions. And there are enough reasons. It is cheaper, or even free with a small order amount. Average delivery time is about 2 weeks, although more will be written on the site.
For the delivery of goods from China, 2-3 weeks is a great time.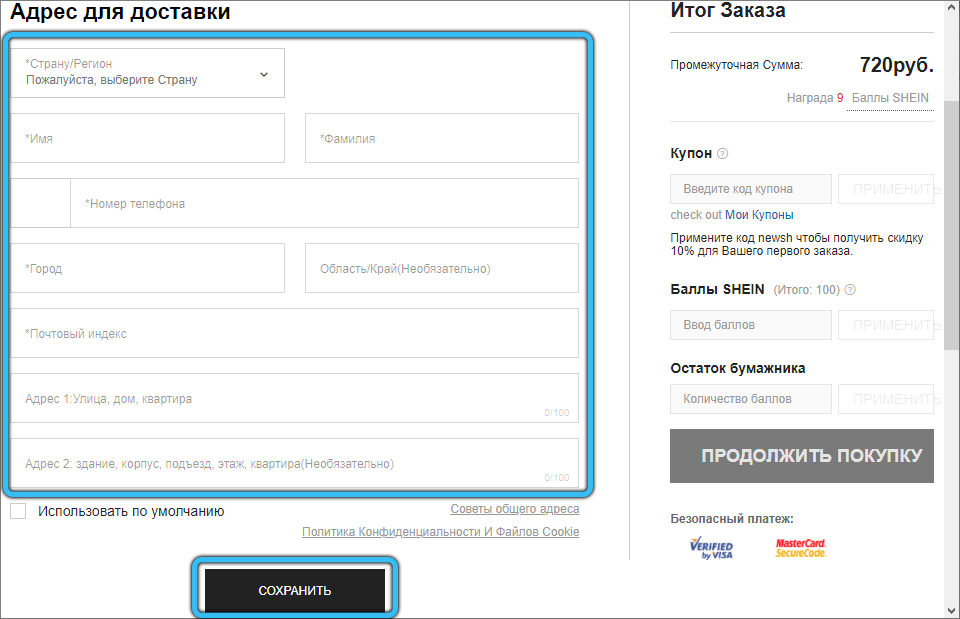 Payment options
Naturally, many will be interested in the question of how to pay for your order.
There are several options. But you need to say right away that you will not be able to pay for the parcel upon arrival in cash.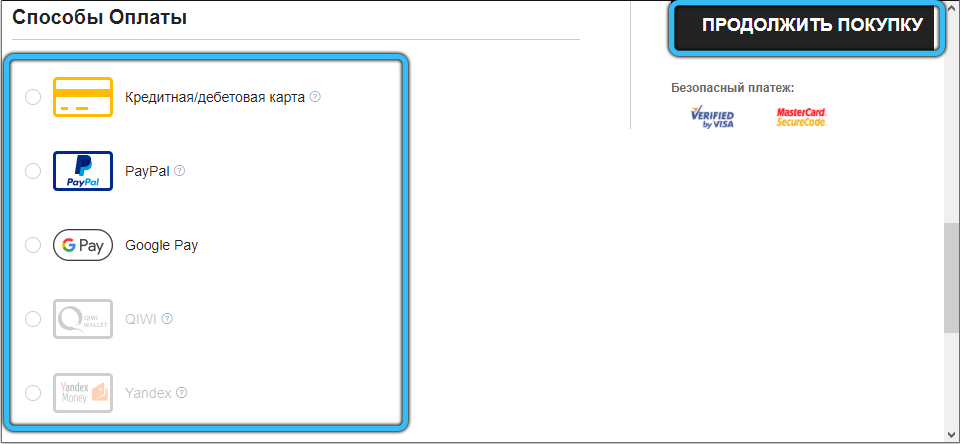 Online payment only. There are 3 options to choose from:
Bank card. Convenient and practical. Especially if there is a mobile banking application.
Modern electronic payment system. It is widely used in many countries, as well as on many Internet trading platforms.
Russian payment system that cooperates with Shein. If you have an electronic wallet with a balance, payment takes place in a few clicks.
Here, everyone decides for himself which payment option is better to use.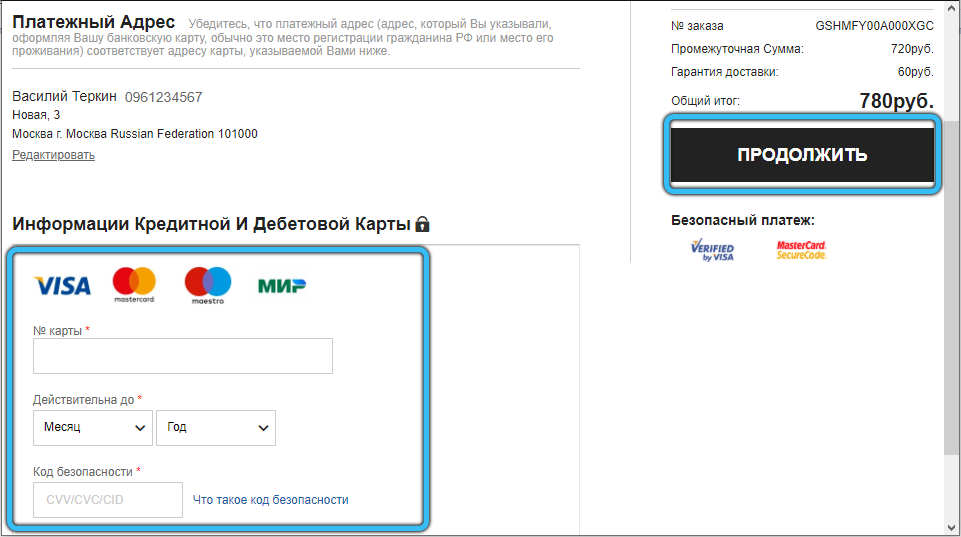 It is important that payment is made only after a careful study of the entire order, as well as information about the goods. Apply as many discounts as possible. Now make a payment.
How to track your order
Now to the question of how you can track the parcel from the Shein store. After all, the person paid the money and is afraid not to receive the order.
On this score, you should not worry. They are not scammers. And there is a handy tool for tracking your shipment from Shein.
The site usually indicates that the order will be formed within 3 days. All goods are collected in a single package and sent across China to a warehouse for further shipment. Sometimes it takes a little longer to move cargo across the Middle Kingdom.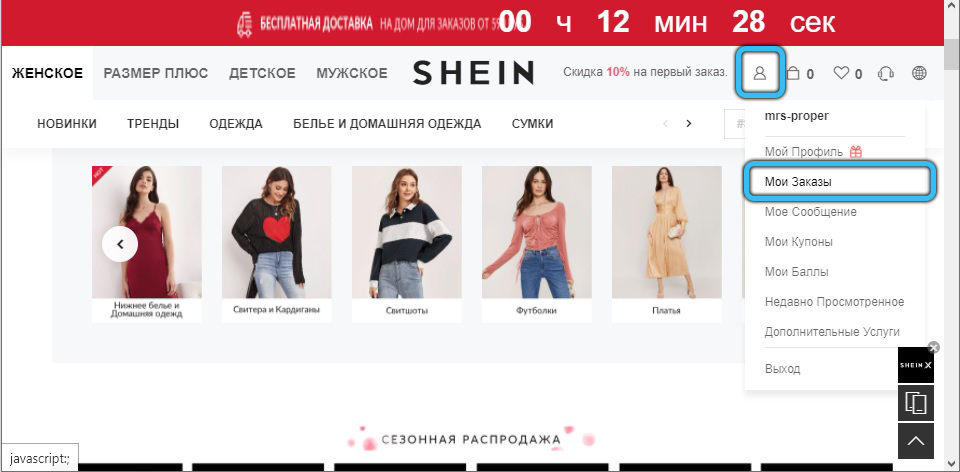 User can track their order by tracking number from Shein. It is necessary here:
open the application;
go to your personal account (My account);
click on the "My orders" button;
view history and current status;
then click on "View details";
if the status is "Sent", then click on "Track".
So the client can see the current status and own track number.
In general, it is quite easy to track the track number. To understand where your order from Shein is now and how it moves across Russia, you need to open your personal account, enter the order number or track number in the search field and check the status. The user can even see the exact geographic location.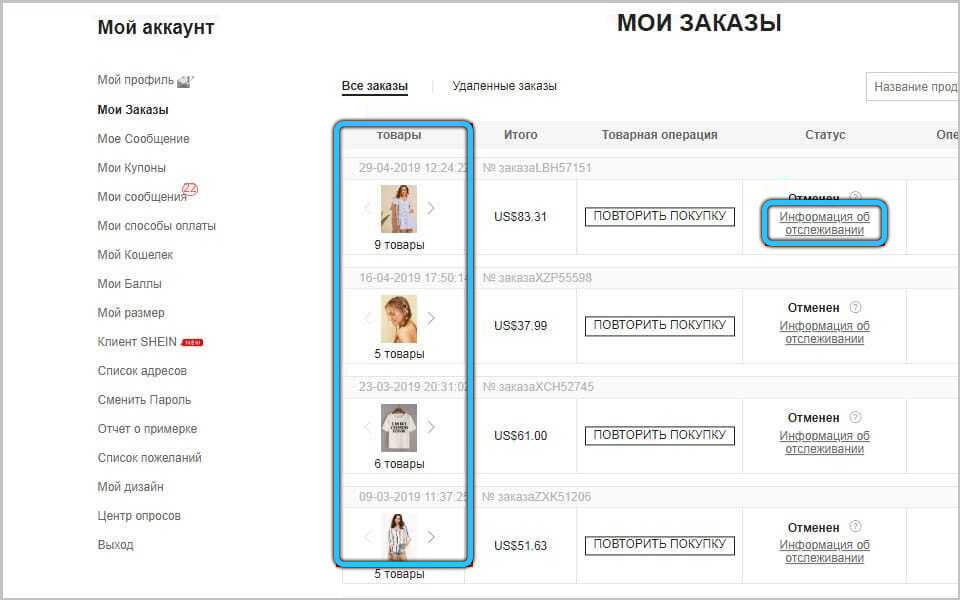 Even Shein usually writes that delivery will take 25-35 days. But practice shows that it often happens faster. There are exceptions, though. Here is how lucky.
Express delivery on applications takes 1-2 weeks.
How to pick up the goods
If clothing or other goods have arrived at their destination, then they should now be collected.
It should be noted that Shein does not deliver by usual Russian Post. This is done through CDEK.
There are 2 delivery options to choose from:
Pickup. The client himself comes to the nearest branch, presents the documents and picks up the parcel.
By courier. And to the door. And you can do it for free. Depends on the amount of the order.
When crossing the Russian border, a notification from CDEK is sent to the phone number specified in the order. This makes it possible to understand when the goods will be in your possession, and choose the optimal way to receive it for this time.
Purchase returns
It so happens that a customer wants to return an item he bought from a Shein store.
Here it is not necessary to open a dispute in order to return this or that thing. But the return policy should be consulted in advance.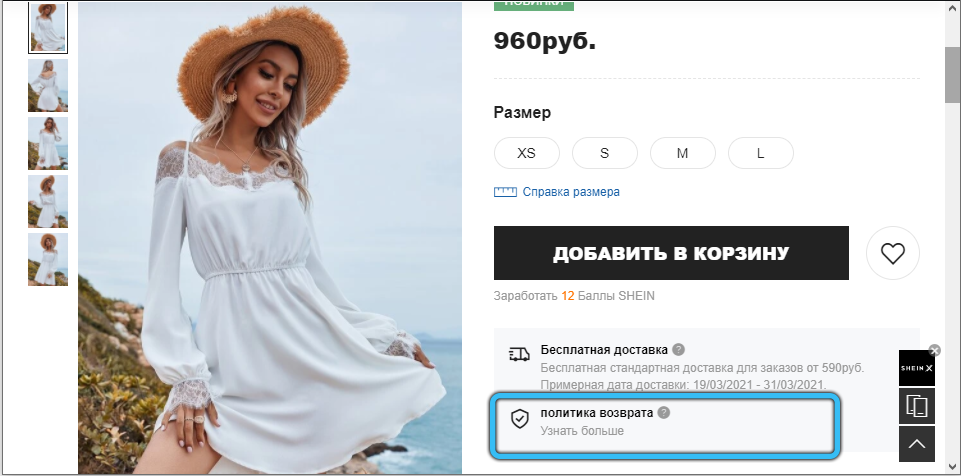 The procedure looks like this:
log into the service account;
open the section "My orders";
then click on "Return of goods" and view the details;
choose the option to return products, as well as money;
to wrap up;
choose a logistics company;
pay for the return.
It is only important not to indicate the return address that is written on the parcel received from Shein.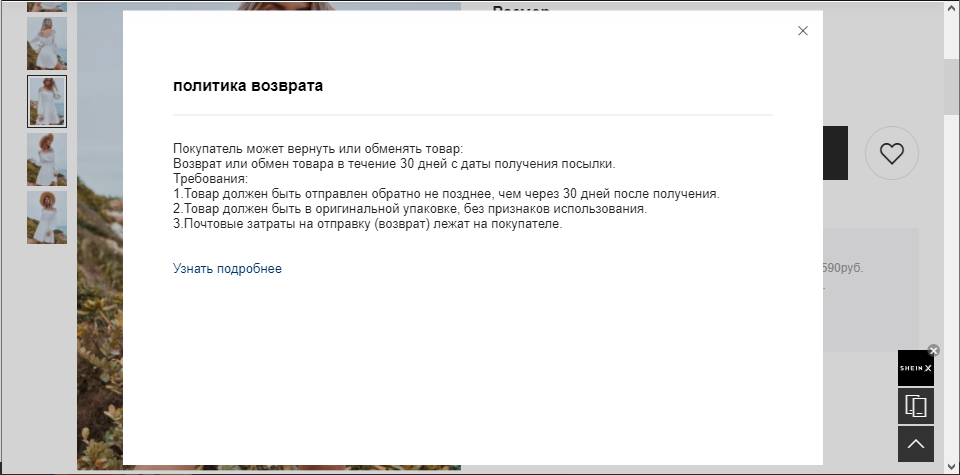 Plus, remember these moments:
there are categories of goods that cannot be returned or exchanged;
if the product was damaged or defective, you need to prepare a photo for confirmation;
when returning the product, it must not be used, washed, damaged and be devoid of tags;
goods that went free of charge to the rest of the order are not returned;
if the shipping was free, the customer pays for the return shipping.
In general, everything sounds correct and logical, but you should not mess with the return. There are too many conditions. Therefore, the right decision would be initially to choose the products correctly. Read reviews, watch descriptions and clearly define dimensions and other characteristics. Then there will simply be no need to return.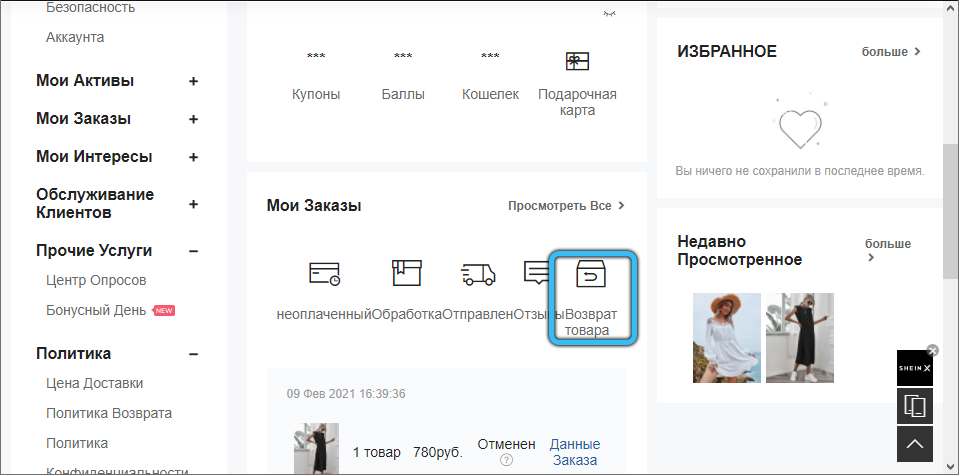 If for one reason or another you no longer want to shop at Shein, you can delete your account. This will save you from multiple e-mails.
It is important that there are no active orders when deleting. Otherwise, it will not work. You can terminate your account through the settings, or through the support service. A consultant will guide you step by step to delete your store account.
Shein is a one-stop online store that is hugely popular in Russia. It is not for nothing that it has its own russified website with all relevant offers, Russian-language support and accurate translation of all goods and products.
It's easy to work with him. You can find many different useful care items, really high-quality clothing, and even pet supplies in one online shopping.
Although it's fair to say that Shein is mainly focused on the clothing and accessories trade. The quality matches the price exactly. And some are sure that for such things the price is frankly underestimated. You decide.
Have you used the Shein store? What are the pros and cons for yourself can you highlight? What did you buy? How satisfied are you with the service, product quality and delivery times?
We are waiting for your answers and personal opinion about Shein store.
Subscribe, leave a comment and share the link with your friends!