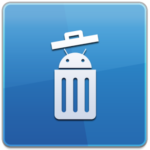 Uninstall faster with Android's AVG Mobile Apps uninstaller
In this tutorial we show you how to uninstall the apps on Android. We also recommend an app with which this is even easier than with the tools provided by Android and Google Play.
Beginners in particular often wonder how you can remove the apps from your smartphone or tablet. This is also recommended so that you always have enough memory available and apps that are not used are prevented from running in the background, even if they are never needed.
If you know another way to uninstall apps on Android even easier, just let us know in the comments.
How to uninstall Android apps
Below we present three variants with which you can uninstall the apps on Android. On the one hand, there is the option to uninstall the apps directly from Google Play. Here you will only find those that you have installed via Google Play. You can also go to the Android settings and last but not least we have an app recommendation for you.
This gives you a total of three options. We are now presenting these in a bit more detail so that you can quickly and easily throw apps back off your smartphone or tablet when you no longer need them or need space to install new apps.
Option 1: Uninstall the apps in Google Play
If you usually only get apps from Google Play, you can uninstall them here as well. This is how you usually do it:
Click on the icon at the top left until a window moves to the right, where your name can be found at the top
Click on "My Apps"
In the list below you will find all the apps (if available) that want to be updated. Below that are the remaining apps in alphabetical order.
Type in the Android app that you want to uninstall and in the following window you just tap on "Uninstall"
We have shown the whole thing again in the following screenshot. Alternatively, you can go to Google Play via the search and enter the application to be uninstalled and tap on it. The button for uninstalling the Android app also appears here.This could be of interest to you Our smartphone recommendations for Christmas 2019 – Find out more!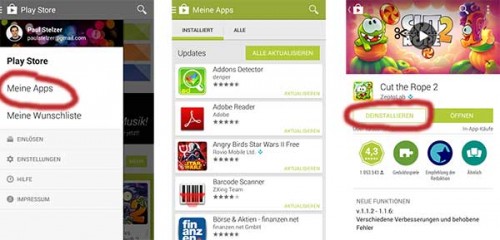 Uninstall apps directly from Google Play
Analogously, this variant naturally works in a similar way to other app marketplaces such as the Amazon App Shop or the AndroidPit App Center. Usually, however, Google Play is preinstalled on most Android devices and therefore we explained it using Google Play.
Option 2: Remove apps in the Android settings
Option 2 is very suitable if you want to install apps outside of Google Play or just want a list sorted by the size of the app. To do this, simply go to the Android settings (usually found in the app overview under "Settings").
There you wipe down a little until you find the point "Apps" (in the device area for Android 4). There you will find a list of all apps that are installed on your device. If you tap on the menu icon of your Android device or on the three black dots at the top right, you can sort this according to size.
Now tap on the app that you want to uninstall from your Android device, and here too you can find the item "Uninstall". This will uninstall the application from your device.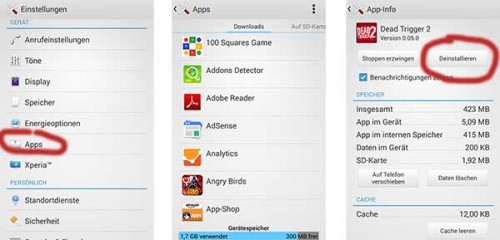 Uninstall apps using the Android settings
Option 3: Use the uninstaller from AVG to uninstall mobile apps from Android
Last but not least, we have an app recommendation for you. The first two options are always possible with Android. For this third you have to download the uninstaller from AVG Mobile Apps, which is available for free on Google Play.
The big advantage: You can sort the apps according to different criteria. After using them, how much battery they suck, data that is sent and storage space. Now just tap the box on the right and you can also tap other apps. These are then uninstalled in one go. For security reasons, you will be asked whether the app should really be uninstalled.