The keyboards software Android tablets and smartphones, will soon cease to be the default way to enter text into the system, as technology increasingly recognizing handwriting is more effective and simple to use . This means that soon we will be able to write texts such as emails or documents directly with our finger or a pencil, with the speed that this entails. In this article, we will get to know the best handwriting recognition apps for Android.
One of the problems that we will face when trying to leave behind the use of the on-screen keyboard in Android is to obtain a software that adjusts to our needs, that is fast, stable, and of course capable of recognizing our writing as well as possible. Precisely in this article we have gathered the handwriting recognition applications for Android that in our opinion meet all the conditions mentioned above.
WritePad
One of the best applications of its kind on the market. Unfortunately, it is not free, since its price is approximately US $ 10, but its developers say that it is worth every penny we invest in it. It offers support for four languages, a spell checker, and many other cool features.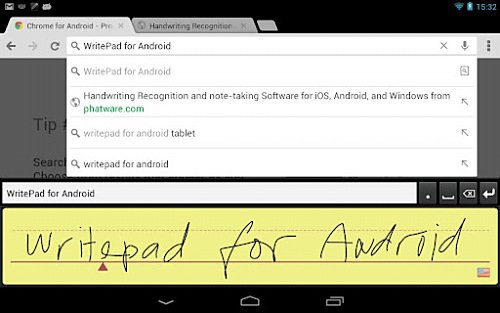 WritePad appears as an additional keyboard on our Android phone or tablet, which will allow us to use it in any application that requires text input.
If you wish, you can download WritePad by clicking on this link.
Great Writing
Without a doubt, this app is one of the best for taking simple notes with your finger or stylus. Although it offers almost no feature to adjust the recognition of handwriting, the truth is that it makes up for this deficiency with a wide range of adjustments that allow us to quickly and effectively change aspects such as pen width and color. of writing, among others.
It also offers options such as the ability to copy and paste, and a convenient quick view of the notes, but best of all, we can share what we have written with others through email, MMS and Facebook.
If you wish, you can download Genial Writing by clicking on this link.
G-Board Lite
G-Board Lite , along with WritePad , are one of the best applications that we can find on the market for handwriting recognition for Android.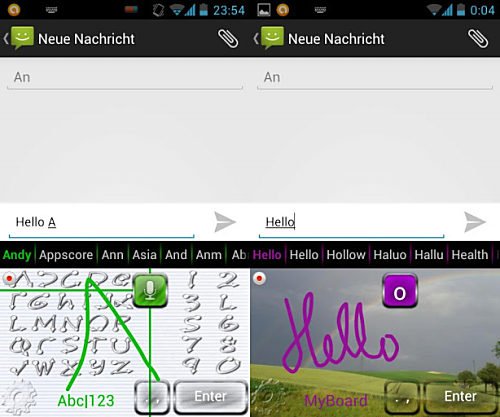 The first thing that catches the attention of this application is its ease of use, since it uses the simplified gesture system for entering text. To draw lowercase characters, all we have to do is draw small symbols, and to get uppercase characters, it is to draw them larger, as simple as that. G-Board is available for free on Google Play or the Android Market and requires Android 1.6 or higher.
If you wish, you can download G-Board Lite for free by clicking on this link.
conclusion
Obviously, the choice of the appropriate tool will be the responsibility of the user, but without a doubt, the best alternative available is WritePad, even if it is a paid application. This is due to the excellent performance and capacity it offers, which will undoubtedly be highly appreciated by all those who use their Android smartphone or tablet for their daily work routine.