Do you want to switch from Spotify Premium to one of the other music services or simply switch to the free version? We'll show you how to cancel your Spotify subscription.
Even though Spotify is one of the most popular streaming services, there are of course reasons to switch to another provider. But whether you prefer to benefit from your own small cloud on Google Play Music or use your iTunes library on Apple Music. We'll show you how to cancel your Spotify Premium subscription.
Cancel Spotify Premium: on smartphone or PC
So far, it has not been possible to adjust the premium subscription directly via the Spotify app on the Android smartphone or iPhone. But you can do it via the mobile or desktop browser and that's relatively easy.
Opens the Spotify website on the PC or smartphone and logs in
Click on your profile picture (PC) or the right menu (cell phone) and on account
Scroll down to Subscription
Click Change or Cancel and Cancel Spotify Premium
Confirmed with Yes to end your subscription
On the subscription page of the account, you can now see how long you can continue to use Spotify Premium until you switch to the free service. You can also continue to access the playlists you have created in the free tariff, but you have to live with the restriction that you cannot explicitly control any tracks. In addition, you now hear advertisements regularly.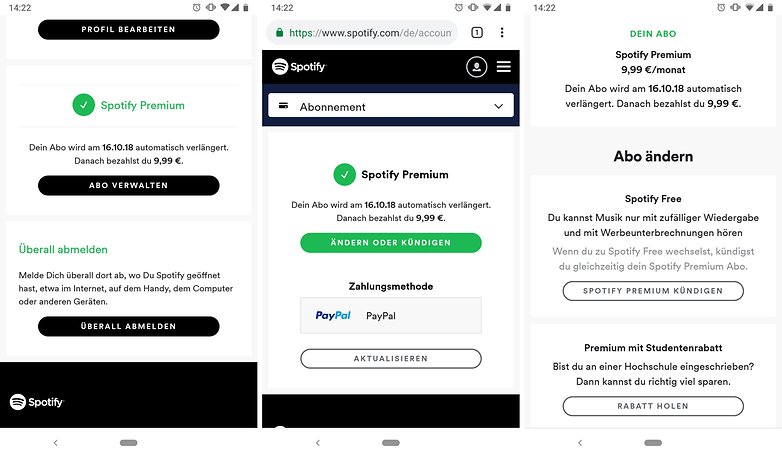 Cancel Spotify Premium: On iPhone using the Apple ID
If you have subscribed to Spotify Premium on the iPhone via the Apple App Store, you must also cancel the service here. You can even do that very comfortably via the settings of the iPhone:
Open the settings and tap your name at the top
Go to iTunes & App Store and tap your Apple ID
Then press Show Apple ID
Goes into the area Subscriptions and selects Spotify from
Terminate your subscription here via cancel subscription
Are you still not sure which music streaming service will take you next? Then we have our comparison of different platforms for you: