Normally you should wait for Samsung to send the latest version of Android to your device over the Internet, but this process usually takes a long time or sometimes it never arrives. The fastest alternative is to manually install the latest version of Android that exists for your Samsung cell phone or tablet.
The SamFirm program for Windows allows you to download the latest official Android software for your device. Such software is obtained from Samsung computers, making it completely original. Once you download it, you can install it on your Samsung device by turning it on in a special mode called «custom recovery«.
Just download the SamFirm program below and run the file SamFirm.exe on your PC. In the program, enter the model and region of your Samsung device and perform steps three and four, as indicated in the image below: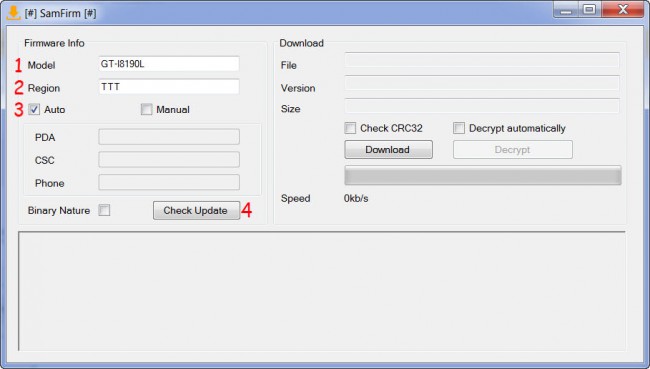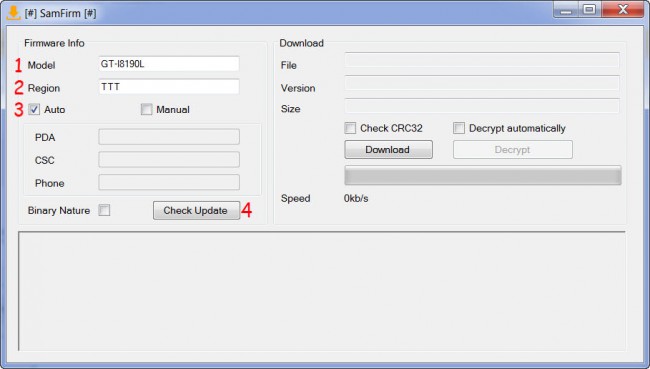 Looking for the latest Android software for the Samsung Galaxy S3 Mini: Model «GT-I8190L», Region «TTT»
To find out what is the model and region of your device, the easiest is to install the Phone Info Samsung application from your Play Store. In this application locate the line that says »Model» and «CSC Firmware Code». These are the two details that you must enter in SamFirm.
If the Android version found is greater than the one you have on your phone, activate the boxes indicated below and click «Download».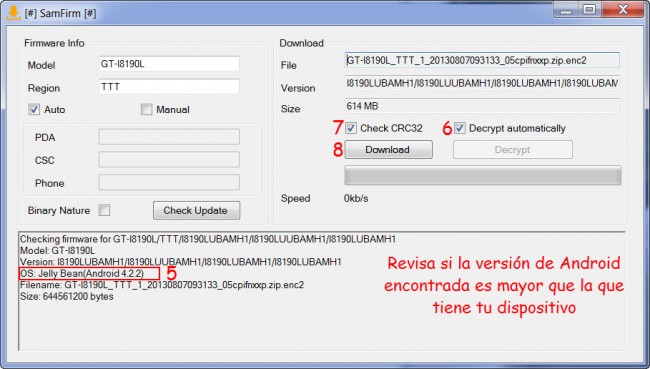 It should be clarified that you do not need to connect your Android phone to the PC using the USB cable: just indicating its model and region in SamFirm is enough for the program to search for the latest Android for your mobile.
Another place where you can download the original Android software for your Samsung is the Sammobile Firmware page. The bad thing about this page is that the download is very slow (120Kb / s). With SamFirm you can download up to five times faster (up to 600Kb / s). Also, it seems that in SamFirm you can find Android software that you cannot find elsewhere: for example, for my Samsung Galaxy S3 mini (I8190L) I have found Android 4.2.2 (as you can see in the images above), while Sammobile.com and other Internet pages can only be found up to version 4.1.2.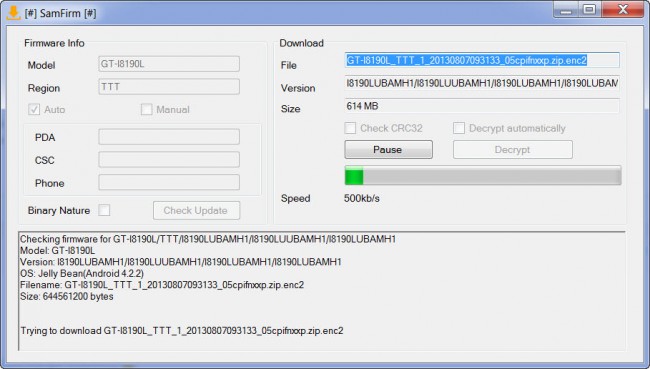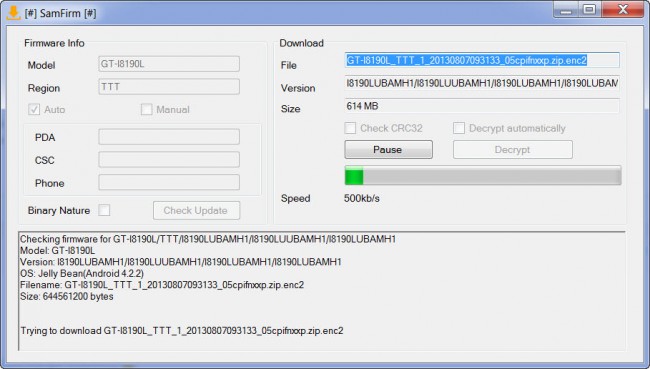 Downloading Android 4.2.2 for the Samsung GT-I8190L
The .zip file that you download with SamFirm you will have to copy it to the memory of your phone and install it by turning on your Samsung in custom recovery mode, or using an application like Flashify (requires being root) that you can find in the Play Store. Although this process is not difficult, it must be borne in mind that if it is done wrong the phone can die. Do it at your own risk. If you are not sure what you are doing, it is better to wait for the notification of new software to arrive and install it from there.
The disadvantage of SamFirm is that the downloaded Android software (.ZIP format) can only be installed through a custom recovery, which must be previously installed on the Samsung mobile. To install Android directly on the device through the «Odin» PC program, it must be in .TAR.MD5 format, a format available from Sammobile.com .
Note : This program is discontinued. If it no longer works, surely it is because of it.
Download SamFirm : XDA-Developers
10 pages to download Samsung and Android firmware (ROM)
Android Oreo for the Samsung Galaxy S7 Edge
Download Samsung USB Drivers
Receive updates: SUBSCRIBE by email and join 10,000+ readers. Follow this blog on Facebook and Twitter.