Internet providers are gradually abandoning the usual twisted pair cable. Instead, they throw in a fiber-optic cable.
Many users underestimate this advantage. But in reality, it is fiber that has the highest data transfer rates. Such material is less susceptible to negative effects from low and high temperatures, humidity, solar activity, etc.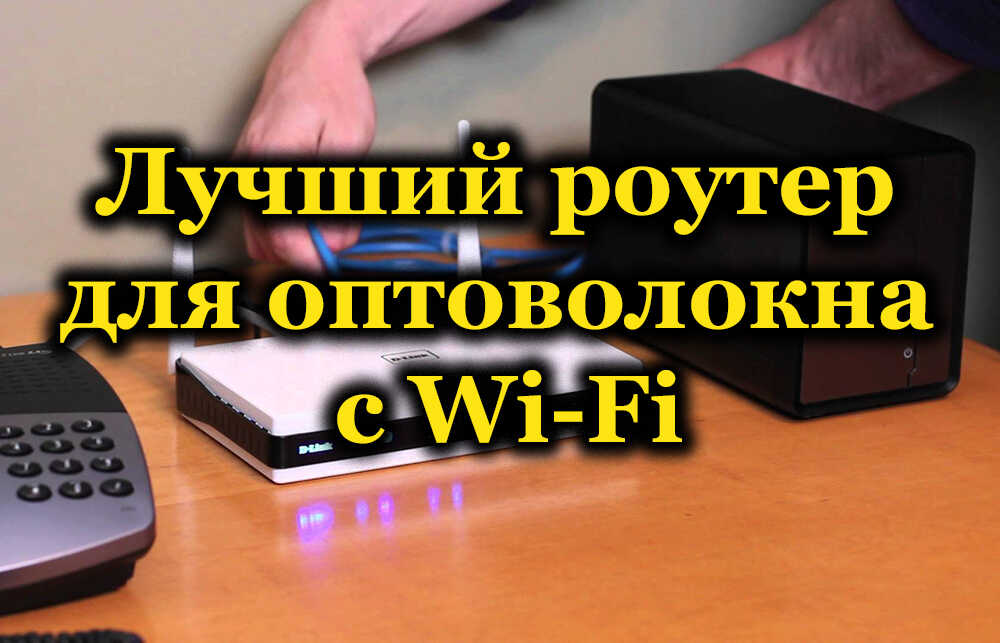 The twisted pair received such a structure due to the presence of a large number of sources of radio waves and electromagnetic radiation around. And they can significantly affect the quality and speed of data transmission over the cable. Fiber optic has a different structure and technology, which minimizes data loss.
To take advantage of the benefits of fiber, you will need to purchase an appropriate router. Moreover, every user will naturally want the best model. It was for these purposes that the rating was formed.
Briefly about technology
Before deciding which router will be better for fiber, it does not hurt to understand the technology itself.
This technology is called PON. Unlike the same twisted pair, here data transmission is carried out in the form of light pulses. This is what a fiber optic cable is for. Or just fiber optic.
Today's computers, laptops and wireless devices that connect to Wi-Fi do not have built-in modules that can decode an optical signal. To work with an Internet provider of FTTH system, which provides for carrying fiber to a house or apartment, you need to purchase an appropriate router. He's a router.
A media converter is used to convert optical signals to electrical signals. At the input of the device, there is a connector according to the SC / LC standard, or a paired SFP connector with RX and TX ports.
After conversion, the signal is transmitted to the RJ45 port. Already through it, using a standard Ethernet cable, you can connect routers and other network devices.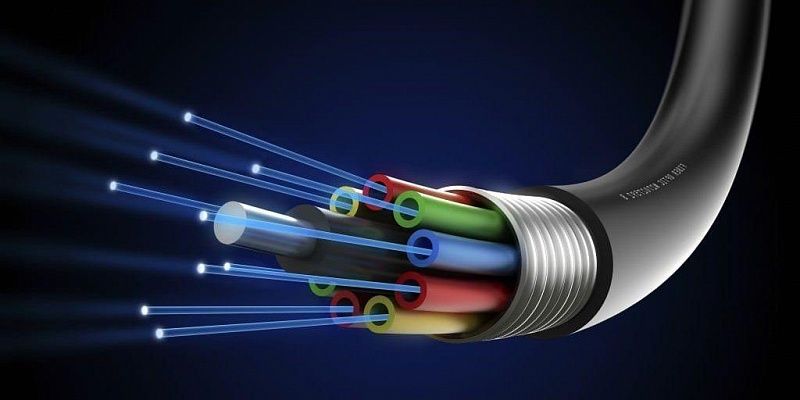 Rating representatives
Now is the time to choose the optimal router that is suitable for fiber optics.
The current rating, which includes more than one Wi-Fi router specifically for fiber optics, includes models of various price ranges. This allows you to purchase both fairly budget models and premium devices with advanced functionality and additional features.
The top was compiled taking into account consumer demand and the opinion of specialized experts. As a result, representatives of the following manufacturers were included in the list:
Eltex;
ZTE;
Huawei;
Sercomm;
TP-Link;
Keenetic;
D-Link.
Now you should consider separately all the potentially best Wi-Fi fiber optic routers and decide on the choice to buy.
Eltex NTU-2W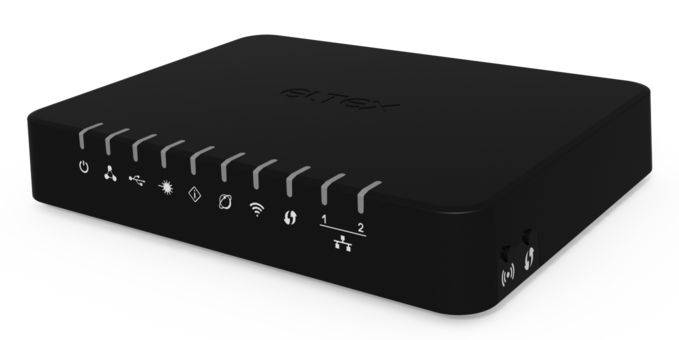 If we talk about the price and choose the best budget fiber optic router, then this model definitely claims to be such a title.
An excellent budget model for home use that supports Wi-Fi and has built-in IPTV functionality.
The device will be the optimal solution for a small apartment or house where a huge coverage area is not required. Yes, there are only 2 LAN ports. There are no external Wi-Fi antennas for signal amplification at all. But for many situations, this is not critical.
Excellent reliability, affordable price, USB and Ethernet connectors make Eltex a worthy choice for home use.
As a disadvantage, it can be noted that it works exclusively in the 2.4 GHz band. Nevertheless, the 5 GHz range is becoming more and more relevant nowadays. This is a high bandwidth wireless Internet, as well as an improved signal quality. If you have many neighbors whose routers operate in the 2.4 GHz band, you may encounter interference when crossing channels.
There is one Gigabit Ethernet and one Fast Ethernet connector.
ZTE F660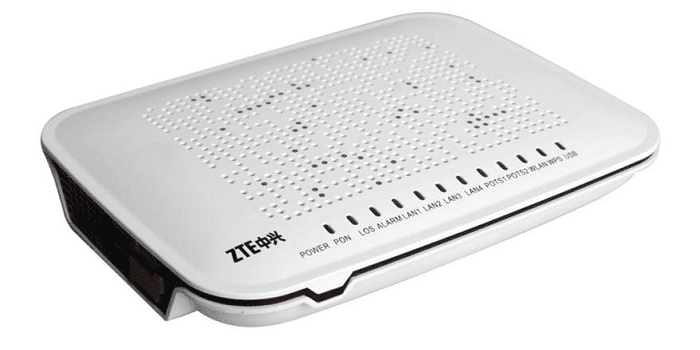 Also in the rating of routers with Wi-Fi, suitable for fiber optic, was a router from ZTE.
This model has 4 LAN ports of the RJ45 type at once, as well as a pair of RJ11 telephone connectors. Through the optical interface, the device is able to receive information at a speed of 2.488 Gbps, and send at 1.244 Gbps.
With this router, you can create 4 Wi-Fi networks, each of which will have a different SSID. But the frequency is 2.4GHz.
In theory, this router is capable of serving up to 128 users. But in fact, it is better to take such a device for a house, apartment or small office.
The device has a USB connector. It has built-in functionality for automatic diagnostics of the PON connection. This allows you to maintain a stable and high-quality connection using an optical data transmission channel.
A more significant problem with the router model is that the bulk has limited MGTS firmware. To get access to all the features and functions, it is better to initially take the global version, or simply reflash the device.
Huawei EchoLife HG8247H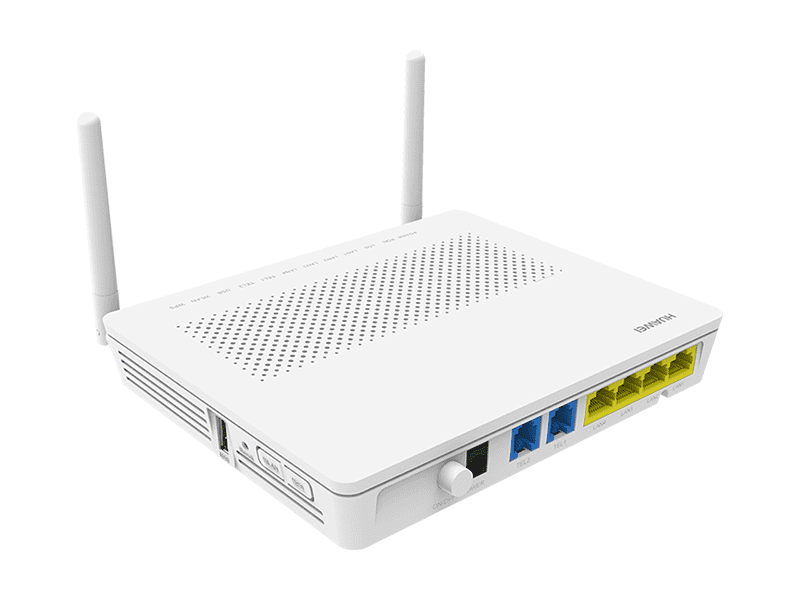 Also supports fiber, like all representatives of this rating.
A distinctive feature of the equipment, when compared with previous models, is the presence of 2 omnidirectional antennas. There is also a CATV connector, which allows you to connect cable TV.
It is also worth highlighting the non-standard arrangement of the SC fiber-optic connector. First, the cable should be inserted through the hole and the special channel located at the bottom. Then it connects to the connector in the bottom panel. Such a scheme is provided so that the cable is protected from fractures, and additionally this made it possible to hide the long connector.
Ventilation holes are provided on all sides of the case, which protects the board from overheating. All connectors are located on the rear panel. Available here:
Ethernet;
Wi-Fi;
IPTV;
VoIP.
The router is equipped with an integrated firewall, which allows you to protect the created local network from outsiders. It also helps in the fight against attacks that negatively affect the speed of work.
The router software has a dynamic power regulator. Power consumption can vary between 7.5-18 watts. It directly depends on what the current load is.
D-Link DIR 615 / FB
Thinking about which fiber-optic router would be better to use, many prefer the named model produced by D-Link. The fiber-optic information processing technology is perfectly implemented here.
At the same time, the model is quite budgetary. An excellent choice for home use and even a small office.
There are some restrictions on the internal speed of the created local network. The use of the 802.11n standard is provided. The attractive design was highly appreciated by the users.
The device operates at 2.4 GHz, like all the models presented so far. There are 2 adjustable antennas to enhance the Wi-Fi signal. The speed of work is 100 Mbps.
D-Link DVGN402GF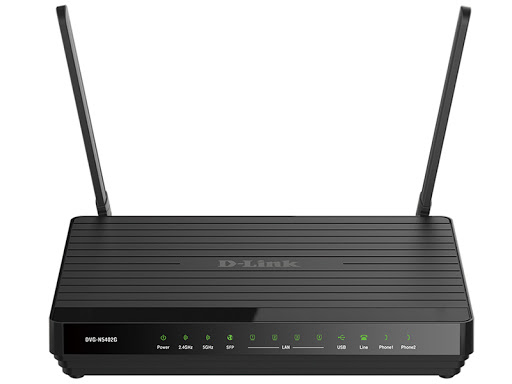 Another representative of the D-Link trademark. Only more powerful, efficient and expensive.
All ports, including fiber optic, provide data transfer rates 10 times faster than the previous model. That is, here we are talking about 1 Gbit / s. The frequency of the wireless network will be the same. The device has a fiber optic SFP output.
The case is standard, nothing outstanding in terms of design. A special feature can be considered the location of the two adjustable antennas on the side panel, and not behind the device. But it looks pretty good. Still, this router is chosen not for its design, but for its characteristics and performance.
Keenetic Giga
If the user is thinking about which router for fiber-optic cable would be better to choose, then it is definitely worth paying attention to this model.
Here we are already talking about a dual-band premium router. It is capable of transmitting 2.4 and 5 GHz wireless networks. Each port has a speed of 1 GB per second. The maximum speed when creating a local Wi-Fi network will be 865 Mbps.
There is support for IPTV, which makes it possible to receive a signal to the TV through this router without braking and delays. At the same time, the price tag is about 9 thousand rubles, which is quite a bit for a router of this level.
Plus, of course, stylish and original design. There are 4 adjustable antennas at once for signal amplification. 2 of them are located on the back panel and 1 more on the sides of the router case.
Sercomm RV6688BCM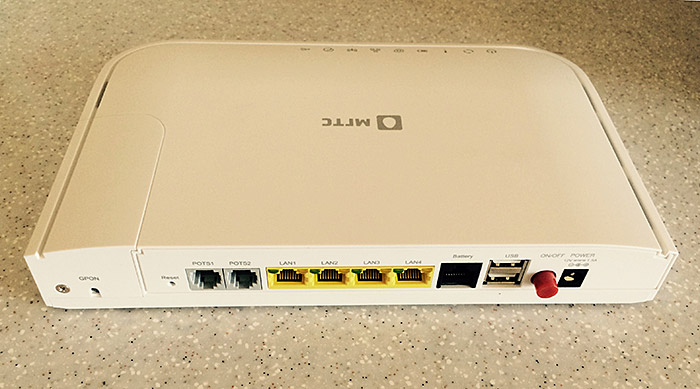 Among Russian users, you can increasingly find this particular router model supported by the MGTS provider.
Like a couple of routers from Huawei and ZTE, the provider is ready to offer this model free of charge to the user with the right of subsequent redemption. Only here it is worth noting that some advanced router settings are hidden by a special firmware from the provider. To gain access to administer the router, you will need to first contact MGTS technical support.
If we talk about the characteristics of the PON module, then it is worth highlighting the following features and capabilities:
the reception speed is 2.488 Gbps per second;
upload speed will be 2 times less, that is, 1.244 Gbps per second;
SC / APC connector is used;
the maximum distance between the provider's equipment and the router itself can be 20 kilometers.
Another interesting feature is worth noting here. This is a dedicated connector labeled Battery. It serves as a backup power supply for the phone. If you connect a landline phone to your home through a router, then the connection will not be lost, even if there is a power outage.
A couple of USB ports are placed on the back of the case.
There are no external antennas here. Plus, the size of the router turned out to be quite large. It was these shortcomings that prevented the model from leading the rating.
TP-Link TXVG1530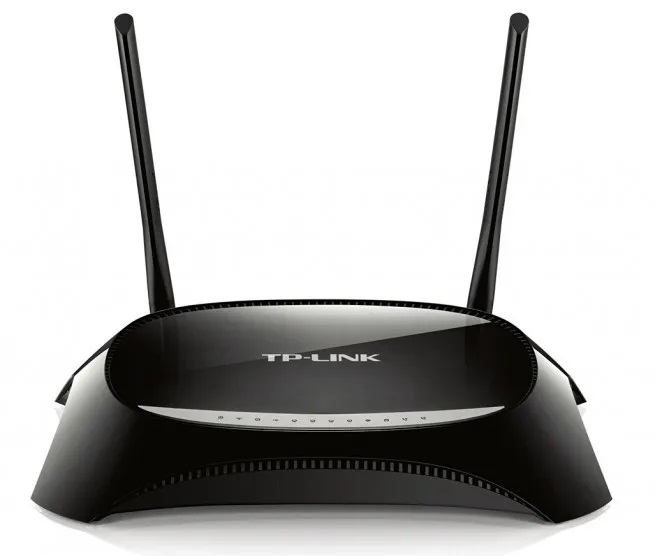 Choosing from a huge variety of routers the one that would be the best suited for fiber optics and demonstrate optimal performance, this particular model turned out to be the favorite. Many experts deservedly put TP-Link products in the first place.
This is a universal device that has an RJ11 input for IP telephony, a USB port, 4 LAN ports at once. Moreover, the throughput of the latter is an impressive 1000 Mbit per second.
A pair of antennas is installed on the device, and their gain is up to 5 dB. The device supports OMCI (remote control interface), as well as SPI and NAT firewall.
The considered router is distinguished by wide functionality of IP telephony.
The device operates on the fiber optic GPON ONT standard. An SC / APC input is provided here. Indicators of the incoming speed up to 2.5 Gbps per second, and the outgoing speed is capable of reaching up to 1.2 Gbps.
With all its advantages and capabilities, the purchase of such a router for fiber optic will cost about 5 thousand rubles. And this is indecently small for a router of this level.
The offered assortment is not limited to this. But the presented models enjoy well-deserved popularity and high demand in the domestic market.
In the end, each user will decide for himself which model of the router for fiber optic to buy.