Linux operating systems can be used for a variety of tasks by experienced and novice users. Distributions can be equipped with tools only to a minimum, assuming further customization by the user, or be completely ready to work immediately after installation thanks to pre-installed packages. In any case, the system can be completely customized in its own way, starting with changing the interface, ending with modification by expanding the functionality of Linux by connecting modules. Just in the ability to customize for your own needs and all the charm of Linux, and nothing even remotely reminiscent of such personalization you will not see in any OS.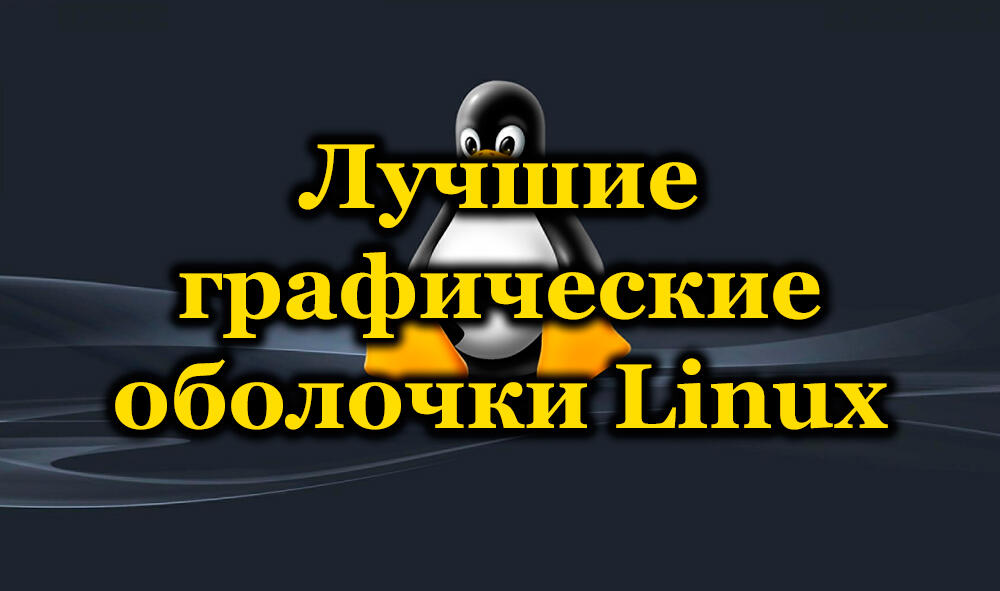 As for changing the interface, even novice users will not have any problems with this, because Linux distributions support numerous graphical shells for every taste and color. The default design for the distribution does not always correspond to user preferences, remember at least the sensational story with Unity for Ubuntu. In addition, there may simply be a desire to refresh the appearance of the system, especially since the capabilities of Linux allow. This is not your wallpaper to change on the Windows desktop.
Desktop skins for Linux distributions come in all sorts of varieties, but the wider the range, the more difficult it becomes to choose. The graphical environment can be a window manager or a desktop environment and is a means of user interaction with the system. In fact, everyone will have their own best graphical shell for Linux, and there will never be a consensus on this matter, just as any rating cannot be completely objective. We have selected for you the most popular, high-quality and well-developed graphical shells for Ubuntu and other well-known distributions. The selection will help you choose the best interface based on your own needs.
Top 9 best graphical Linux shells
Software solutions for desktop decoration are constantly being improved, new developments appear, and each of the options can be customized to one degree or another, which allows you to give the system individuality and ensure the most comfortable interaction. In addition to the default graphical environment, the distribution also supports others, so feel free to change the look of the OS if you are tired of it.
KDE Plasma
Let's start our review with the most advanced shell, which is loved by many Linux users, regardless of the installed distribution kit. The KDE desktop environment is flexible enough, divided into numerous independent components that can be changed and placed in new ways.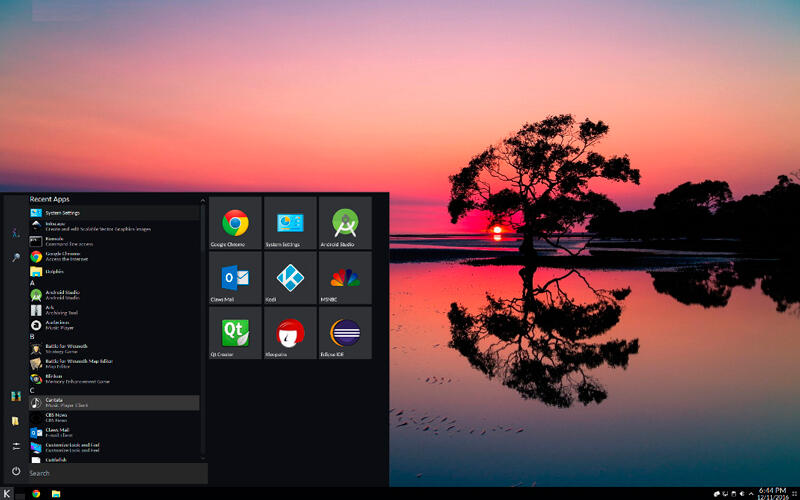 It is the ability to customize that allows you to adapt "Gym shoes" for any task. Plasma desktop consists entirely of applets that can adapt to different situations, widgets can be placed on the panel, desktop, application board or replaced with others. This freedom of action will appeal to fans of customization, while comparing graphical Linux shells, we note that KDE Plasma has a rather high resource consumption due to the abundance of animation effects, so it is not suitable for weak computers. It looks nice and simple, provides comfort of use and boasts good performance.
Peculiarities:
customizable widgets ("plasmoids");
KRunner – a program that responds to the quick launch of applications, search for files and folders, as well as a number of additional tasks (currency conversion, unit conversion, calculator, etc.);
file manager Dolphin;
rooms (Activities) – virtual desktops;
screen capture tool Spectacle;
Gwenview – image viewer, simple editing;
torrent client KTorrent.
Distributions: KDE Neon, Kubuntu, OpenSUSE, KaOS, PCLinuxOS, Kali Linux.
GNOME
One of the most popular graphical shells used in Ubuntu and other well-known Linux distributions. It is a comfortable, detailed desktop environment that is fundamentally different from other environments. The shell has a beautiful appearance, combined with ease of management and the absence of unnecessary elements, but in terms of customization it does not offer the same features as KDE, so you don't have to rely on freedom of action to customize the interface for yourself. But GNOME has the advantage of a huge number of applications specially developed for this environment, so a minimum of pre-installed software is not a problem, because everything you need is easy to install yourself.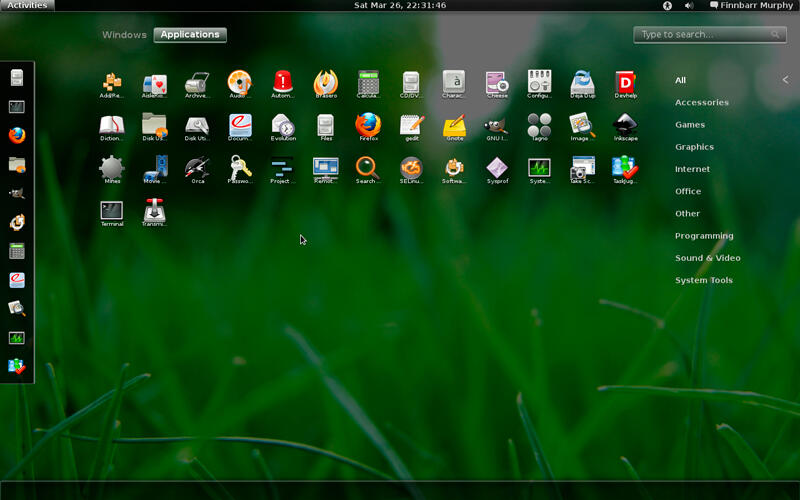 As for GNOME 2, it is a nimble and friendly shell that provides a painless transition from Windows for beginners, but with GNOME 3, users did not initially have a friendship. The original design approach to the implementation of the new look of the shell made it inconvenient, clumsy and gluttonous, and in terms of resource consumption it is inferior even to KDE. User dissatisfaction with the completely redesigned interface provoked the appearance of forks of the second version of GNOME – Cinnamon and MATE.
Peculiarities:
quick access to main applications, customization of the dock;
system for displaying notifications on the desktop;
composite manager Mutter or Compiz;
file manager Nautilus;
support for extensions to change the appearance and functionality of the user environment;
"Actions" mode, which allows you to see active windows and move them from one desktop to another;
dynamic number of desktops.
Distributions: Fedora, OpenSUSE, Ubuntu GNOME, Debian, Arch Linux, Kali Linux.
Cinnamon
Lightweight and stable Linux Mint shell, which is a fork of GNOME 3 and presented in the style of GNOME 2 in a modern design with added features.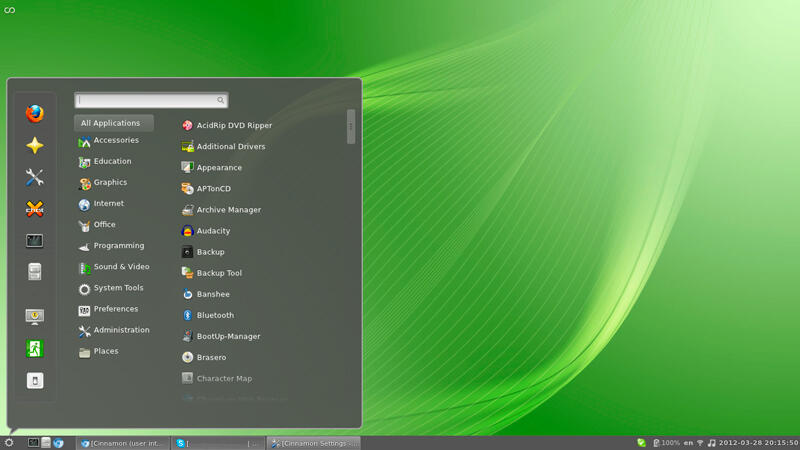 Externally, the interface to some extent repeats the features of Windows, which contributes to quick mastery in the environment when "moving" to Linux, so for beginners it is an ideal option. The list of advantages also includes ease and flexibility of customization, good performance, as well as the ability to use on a weak computer.
Peculiarities:
support for desklets (desktop widgets);
window manager Muffin (fork of Mutter from GNOME 3);
file manager Nemo (fork of Nautilus);
a set of applications X-Apps, including an editor, a graphic file viewer, a photo manager, a multimedia player, etc.;
Workspaces – multiple workspaces;
support for plugins to expand functionality.
Distributions: Linux Mint, Manjaro Cinnamon.
MATE
Another lightweight, pleasant-looking and reliable shell for connoisseurs of comfort, based on GNOME and keeping the traditions of GNOME 2. It is characterized by stability, convenience, flexibility of customization and well-developed functionality. For classic lovers and users who have decided to get acquainted with Linux, this is a great solution.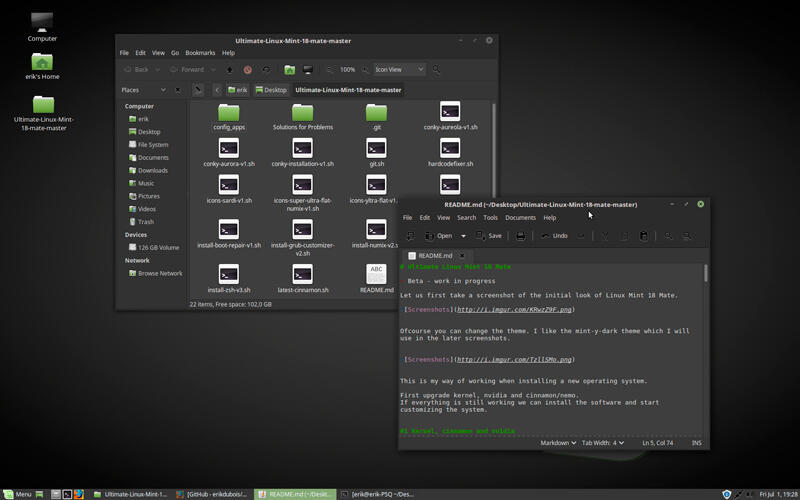 When installing Linux Mint, many are wondering which shell to choose when bundled with a distribution, Cinnamon or MATE. In many ways, they are similar, while "Mate" has a more laconic design, works faster, uses fewer resources and is more stable than "Cinnamon". The shell is perfect for old hardware. In terms of functionality, Cinnamon wins, the environment supports desktop widgets, and new themes are added regularly. New features in MATE appear less frequently, and there are fewer forums. The set of basic applications includes software that migrated from GNOME and renamed to avoid conflicts when installing components.
Peculiarities:
convenient navigation, quick access to elements;
animations and smooth transitions;
window manager Marco (fork of Metacity);
file manager Caja (fork of Nautilus);
terminal multiplexers (MATE Terminal provides the ability to use multiple terminals in one window using tabs, profiles are supported).
Distributions: Ubuntu MATE, Linux Mint MATE, Fedora, Debian, Manjaro, Kali Linux.
Pantheon
Pantheon GUI based on GNOME and developed for the Elementary OS, but also installed on Ubuntu. This is probably the most beautiful Linux shell today, it looks like MacOS, is easy to learn and provides an intuitive interaction, allowing you to painlessly "move" to Linux.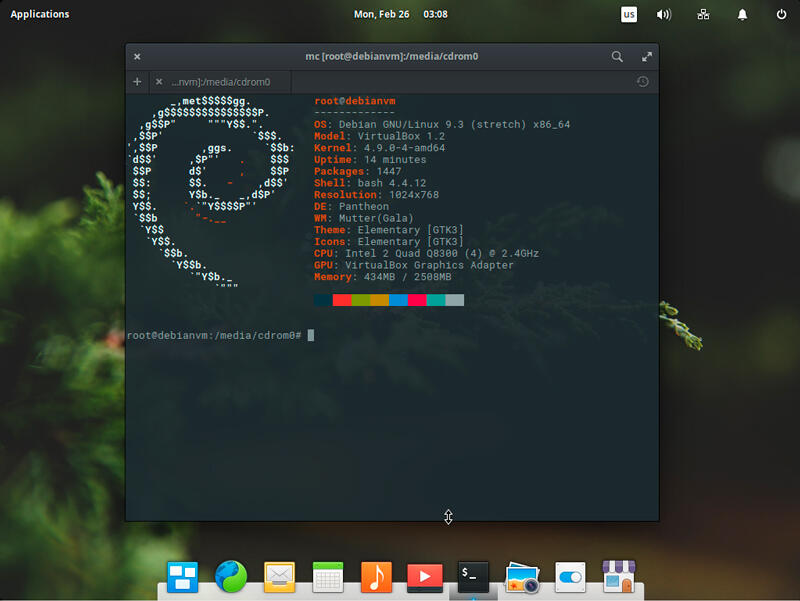 The environment is fast enough, and the Plank dock looks nice and doesn't take up a lot of memory, but that's all the benefits of the environment. As for the settings, you can't roam here, they are few in number, so you won't be able to reshape the shell in your own way, it will do only with very modest requests in this regard.
Peculiarities:
Slingshot launcher for launching programs;
convenient Plank dock for quick access to elements;
a Wingpanel top panel that combines the best of both Gnome 2 and Gnome Shell;
control over the operation of components and restart in case of a failure by the Cerebere utility running in the background;
selection of environment modules for use in the system.
Distributions: Elementary.
DDE
Well-designed, stylish and beautiful graphical interface that looks like the MacOS desktop and provides quick access to any functions.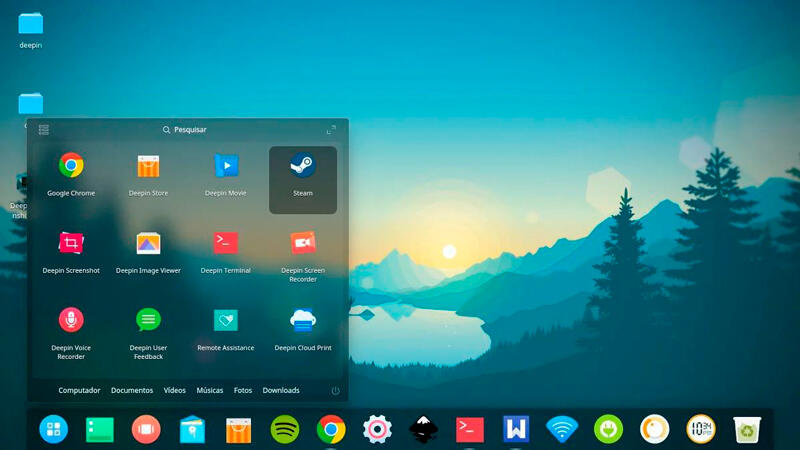 Special attention has been paid to the design of the DDE (Deepin Desktop Environment) environment, created for the Deepin distribution, so that the quality of every detail is at a high level, and it is a pleasure to work in the user environment.
Peculiarities:
the bottom control dock is a redesigned Plank;
the ability to switch modes;
angular navigation (hot corners that can be easily reassigned or disabled);
exit side menu "Control Center" with system settings (similar to the Windows 8 panel);
Gala window manager (fork of Mutter);
Deepin Store App Center;
file manager Nautilus;
excellent environment integration with Deepin applications.
Distributions: Deepin, UbuntuDDE.
Budgie
An independent relatively fresh software solution from the creators of the Solus distributions. Budgie is a modern, beautiful and fast frontend with widgets and numerous customizations, using some of the GNOME technologies.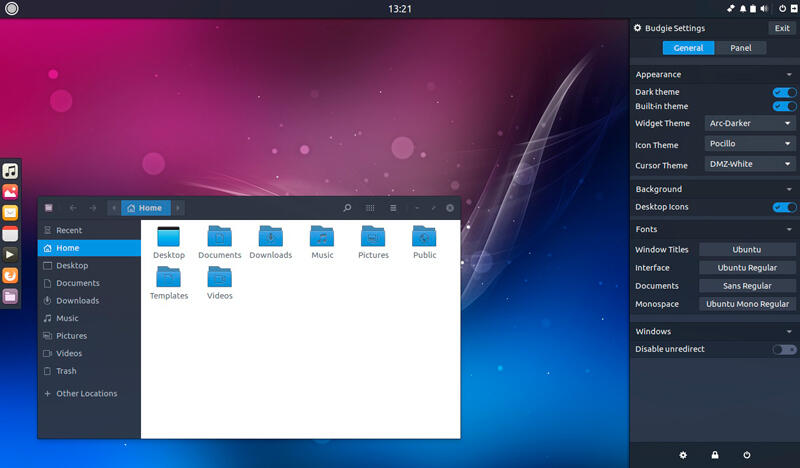 In the custom environment, you can create additional panels, change their position, apply effects, switch to dock mode, and perform many other settings. So if you are looking for a highly customizable frontend and alternative to KDE, then Budgie is exactly what you are looking for.
Peculiarities:
integration with the GNOME stack;
window manager Budgie Window Manager;
Raven Control Center (side panel that gives access to settings);
support for toast notifications;
window of quick launch of applications (Run Dialog) with a search bar;
formation of a list of favorite applications by automatically detecting the most frequently used ones.
Distributions: Solus, Ubuntu Budgie, GeckoLinux, Manjaro Budgie, Arch Linux.
Xfce
The simplest and very lightweight in terms of resource consumption interface, designed to improve performance, and therefore ideal for use on weak and old computers.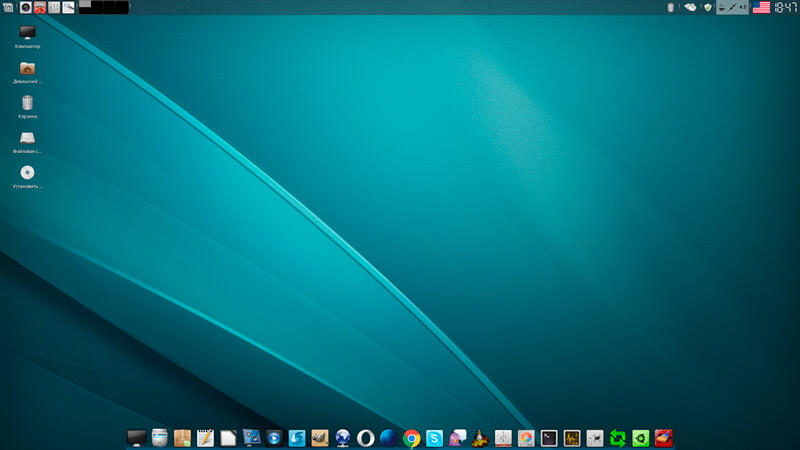 Fast, stable and friendly shell that does not contain anything superfluous, which will not let you down and can be extended at the discretion of the user. It works well with software written for other interfaces (KDE, GNOME, Unity and others), and can be used both as a desktop environment for specialized distributions, such as Kali, and general-purpose system assemblies.
Peculiarities:
flexible settings for the appearance of the working environment;
customizable functionality;
settings storage system;
window manager Xfwm;
file manager Thunar, which supports the ability to expand functionality using plugins;
show notifications;
session manager xfce4-session;
power manager (timer shutdown, battery status alert, etc.);
additional applications such as the Xfbum disc burner and others.
Distributions: Xubuntu, Manjaro, Debian, Kali Linux and others.
LXDE
The most undemanding to hardware resources, simple, lightweight and fast graphical Linux shell, at the same time quite functional. It borrows many elements from KDE, works on a modular basis, where each component is independent of each other and is able to function separately, which simplifies porting to different platforms. Almost all distributions support LXDE installation.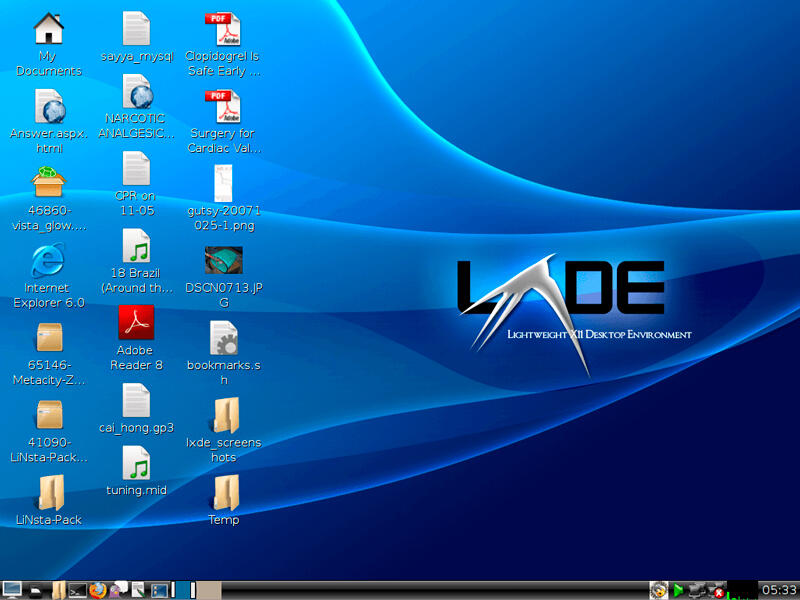 The lightweight interface demonstrates high speed when working with built-in applications, when interacting with third-party resource-intensive programs it does not differ in high performance, so if you do not do with standard tools, then it is better to look for lightweight software.
Peculiarities:
low consumption of computer resources;
simple, intuitive control;
Openbox window manager;
functional file manager PCManFM;
using the components of the environment independently of each other;
the ability to customize the interface with the LXAppearance utility;
a set of standard applications (network manager, task manager, session manager, terminal emulator, text editor, and others).
Distributions: Lubuntu, Debian, Kali Linux and others.
We reviewed the best graphical shells for Ubuntu and other popular distributions that are relevant and in demand today. And this is by no means all of the possible options for the environment. So if you are not satisfied with the default user environment, you can easily change it. There are plenty of alternative shells for any requirements and tasks.