Alternatives Office there are several. If we want to have something similar to, for example, Microsoft Office for Android, it is not necessary to spend absolutely nothing because, there are good options that are as good and complete as that popular software. As recommendations, the popular QuickOffice and AndrOpen Office could be cited here. In addition to both, here you can also list the popular editor Kingsoft Office, another robust and very good alternative to create Word, Excel and Power Point documents on your phone.
Using Kingsoft Office (WPS Office)
What makes Kingsoft Office (currently WPS Office) quite remarkable is how complete it is. Not only will it allow you to create and edit text documents, spreadsheets, presentations, text files and PDFs; It also gives us the possibility to link the application with cloud storage services, such as Google Drive, Dropbox, SkyDrive (or rather OneDrive) and others, in order to directly save our files there and have them available anywhere.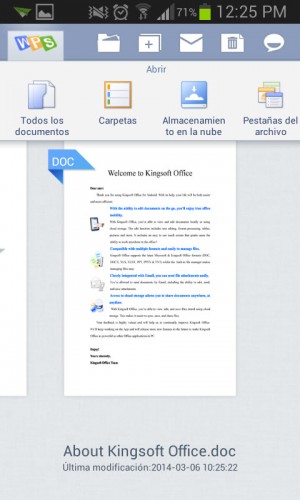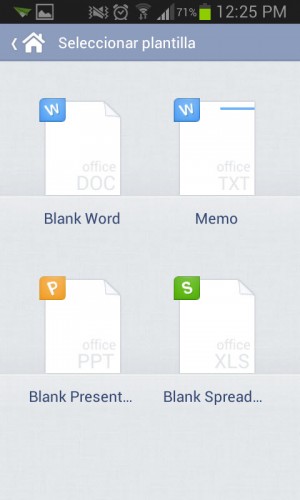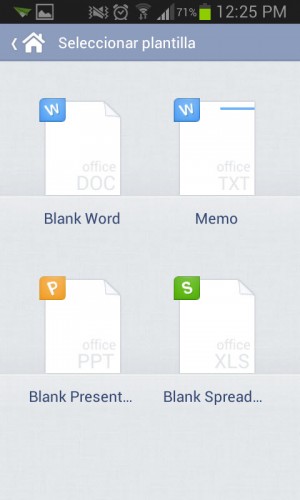 And there is no need to worry about its usability. It is a very well developed Android application that is very easy to intuit where to touch to start creating a document, edit, format, etc., etc.
The application supports 44 languages, including Spanish. Apparently, it recognizes the language the Android device is in and uses that language by default. It is not possible to change languages ​​from the application itself.
And speaking of the creation of documents itself, it offers us an easy and uncomplicated interface, in which it is very simple to navigate. Above we have the document options menu, scrollable from left to right, and below all the space available to work. This is true for creating Word, Excel or Power Point files.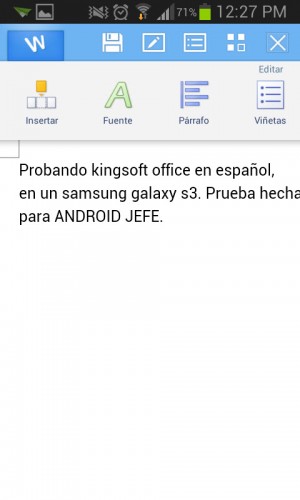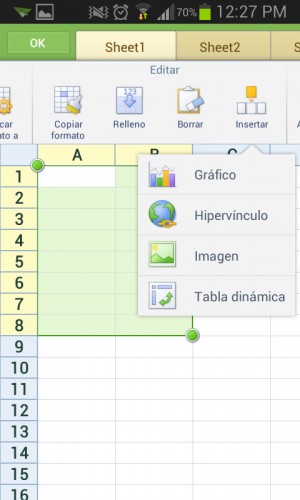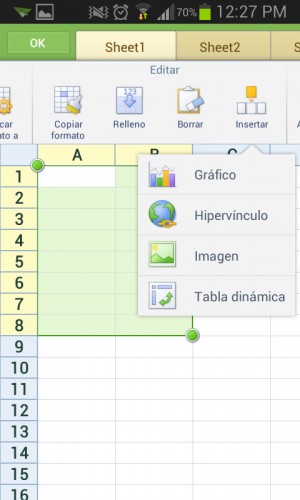 Despite being about editing and creating documents on a device as small as a smartphone, this application is so simple to use and there are no complications when using it on a small screen. That is one of his strengths.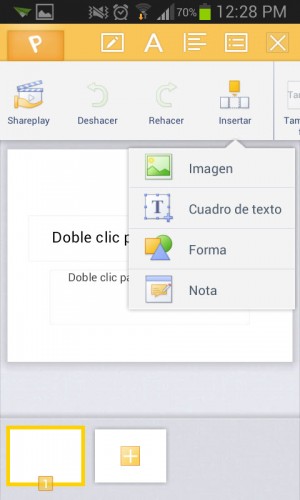 These documents are compatible with Microsoft Office, that is, they can be saved with the extensions .DOC .XLS and .PPT respectively, and then they can be opened in the Office of the PC. I repeat that with this application you can also create .TXT and .PDF text files.
Kingsoft Office is free as an Android application. In addition, its version for Windows is also available for free and in a paid version, which will probably not be necessary for the ordinary user.
Handbook
If you have problems using Kingsoft or WPS Office, you can download the manuals for the Text editor «Writer», spreadsheets «Spreadsheets» and Presentations separately from the official link. Unfortunately, these manuals are not in Spanish but only in English.
to download
As I said, Kingsoft Office changed its name. Now it is called WPS Office and it is multilanguage, that is, it supports Spanish and other languages. The existing version of Kingsoft Office existing in the Play Store (old) is no longer being supported by the developers. You can download their applications from their official website or download their APKs from APKMirror.
APP to read PDF or text aloud on Android
The best APP to hire to do your homework and work online or get paid for doing others'
I bought my first digital glasses to work with my devices for a long time
Receive updates: SUBSCRIBE by email and join 10,000+ readers. Follow this blog on Facebook and Twitter.