It is now possible to book a train ticket directly from the Facebook Messenger and WhatsApp applications. SNCF has announced the integration of a "reservation and purchase" functionality into OUIbot, its conversational robot that is at your service 24 hours a day. Booking an SNCF train ticket in Facebook Messenger or WhatsApp is easy. We show you how.
It is far from the time when you had to crane in front of the SNCF ticket offices to buy your train ticket. Everything now goes online and things get simpler thanks to OUIbot , the chatbot that allows you to easily find out about train times. This week, the SNCF announced that it is now possible to book a train ticket from Facebook Messenger . It is also possible to do this with the WhatsApp app .
How to book your SNCF train ticket in Facebook Messenger or WhatsApp?
More than 50,000 people were already used to talking to SNCF via the OUIbot conversational robot, according to the company. It's the same for buying a train ticket . Just start a conversation with the chatbot which is available on the SNCF website, but also on Facebook via the OUI.sncf page . From the start of the conversation, you are greeted by the message " Tell me where and when you want to leave, I'll take care of the rest!" " .
You can always have fun talking about everything and nothing with the robot, as we often do with personal assistants on our smartphones . But what interests us here is the reservation of a train ticket. So much so get straight to the point! As you can see in the screenshot below, just send a message like " Book a ticket to Grenoble ". Then continue the conversation until the end.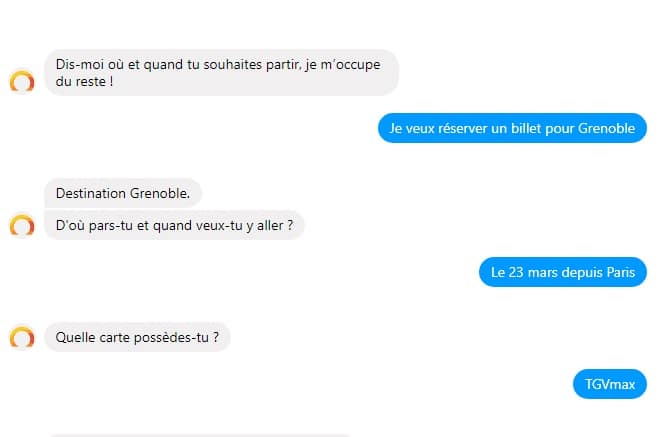 Say from which city, when you want to leave and what type of card you have and the robot offers you the departure times. Choose a route and connect to your SNCF Account from the Messenger application to pay and validate the purchase of the ticket.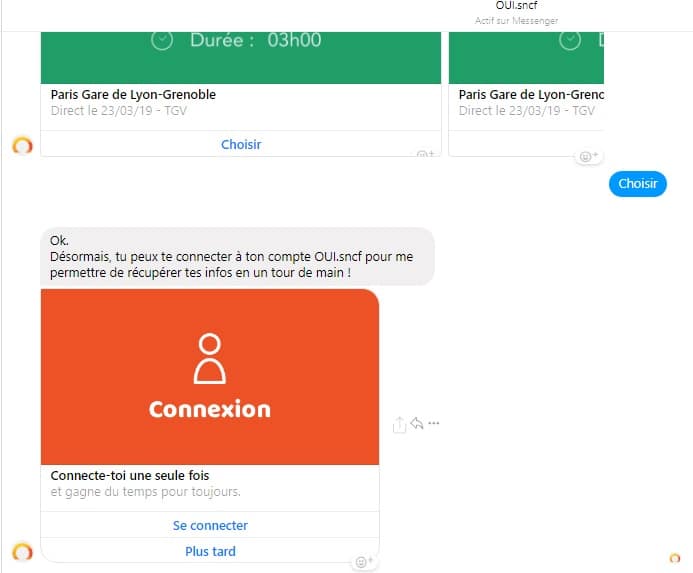 The OUIbot robot is also integrated into the SNCF WhatsApp Business account. If you prefer to go through WhatsApp rather than Facebook, the process is exactly the same. Just start a conversation with the chatbot by following this link (if you are connected to WhatSapp Web) or write to the number displayed on the screen from your smartphone. Well, it's as simple as that …