Have you experienced that your Samsung Galaxy phone is left with a black screen or the phone cannot turn on? The most important thing is the data saved on your phone that will never come back. Well, here we have several methods to fix dead Samsung Galaxy and recover data even though the galaxy is broken.
Part 1: Why does the Screen Go Black?
It becomes one of the most miserable moments when your smartphone goes black and you can't get it back to how it was. Well, there can be many reasons why the Samsung Galaxy turned its screen black, some of these are:
· Hardware: Not always, but sometimes due to wear and tear of the phone, the screen may freeze. Also, some severe physical damage can be another reason for the black screen. Sometimes due to low battery power the screen can go black as well.
· Software: Sometimes due to technical problems in the software the Samsung screen may turn black.
Part 2: How to Fix Samsung Galaxy Black Screen
There are many ways to fix black screen Samsung phone, but most of them need particular knowledge and it is never easy to apply. So, you only have to go to the technical service at a maintenance station? Of course not! Next, you are introduced to a program – dr.fone Repair (Android) that allows you to repair Samsung with a black screen easily and quickly.
This program does not require any technical knowledge and is easy to apply even for Android operating system novices. Let's see the simple steps to fix your Samsung Galaxy that won't turn on.
Simpler Solution to Repair Mobile that Won't Turn On
Capable of repairing almost all Samsung problems, such as black screen, mobile that does not turn on, phone without access to the system, etc.

You do not need technical knowledge and it is easy to apply.

Direct process and without security risk.

Compatible with almost all Samsung Galaxy devices.
Fix Samsung Device Black Screen with Just One Click
Please make 
backup copy of
 all the data of your Samsung device, it is that the repair process can 
DELETE ALL FILES
 permanently.
Step 1: Download dr.fone – Repair (Android)
Download the repair from the link above and start it. Then select "Repair" on the initial screen and "Android Repair" on the next screen.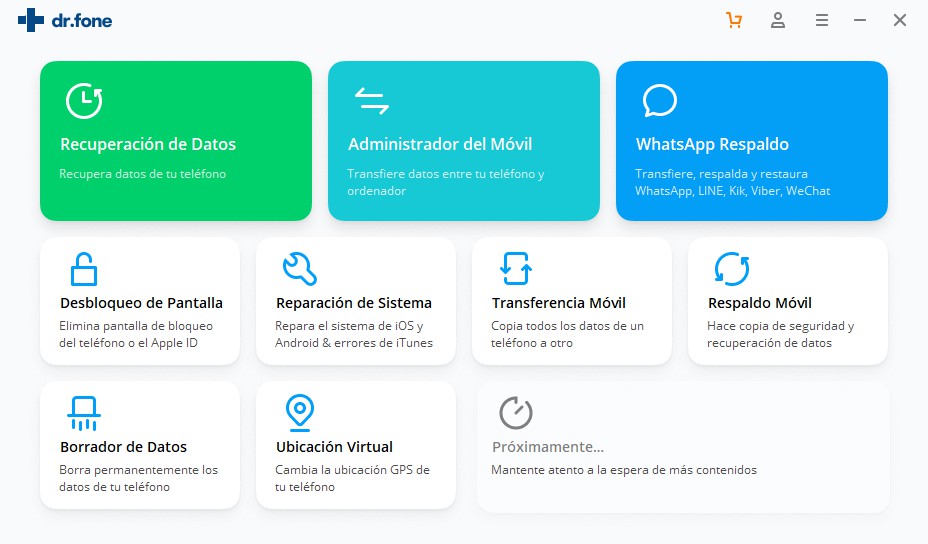 Step 2: Choose your Samsung information
Now you need to select the brand, name, model and carrier of your Samsung Galaxy. Please make sure all the information is correct. Then click "Confirm" to continue.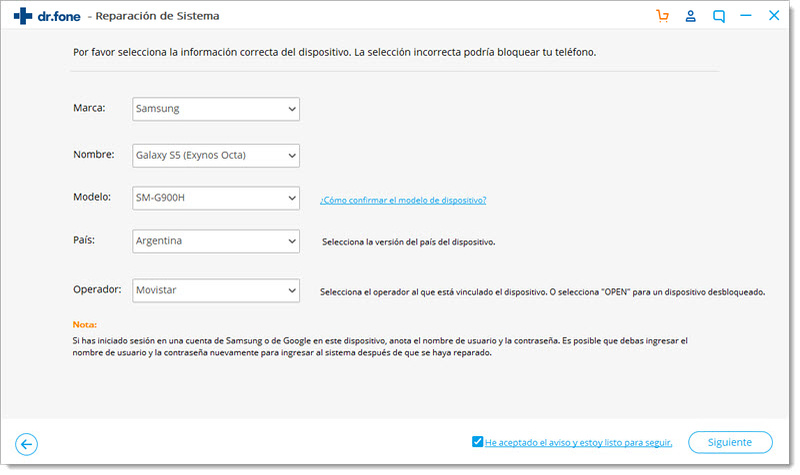 Step 3: Enter Download Mode
In this step, you need to put your Samsung device in download mode according to the instructions shown on the dr.fone screen. It is very easy, just follow the instructions, there is no risk.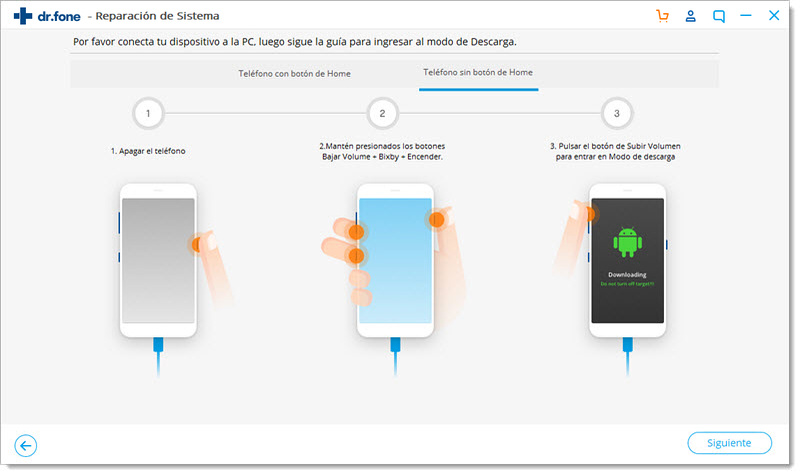 Step 4: Download Firmware Package
Upon entering download mode, the program begins downloading a firmware package to begin repair. The download will take a while, please wait patiently.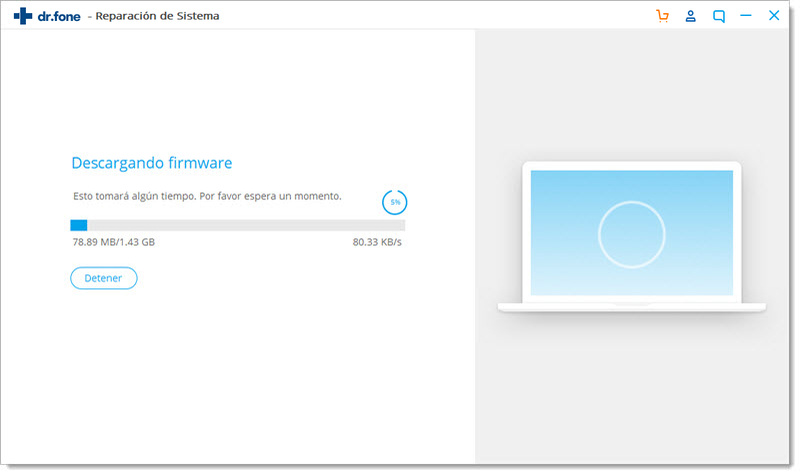 Step 5: Repair Samsung with black screen
When the package download is complete, dr.fone will automatically repair your Samsung Galaxy. A few minutes later, the repair process is finished and you can enjoy your smartphone without limitations.
Fix Samsung Black Screen Manually
If you want to repair your device by yourself and not resort to any third-party program, you can do it by following the steps below: (but this way is not as effective as using dr.fone)
Step 1: Turn off your Samsung device to start booting. You can do this by holding down the power and volume down buttons at the same time.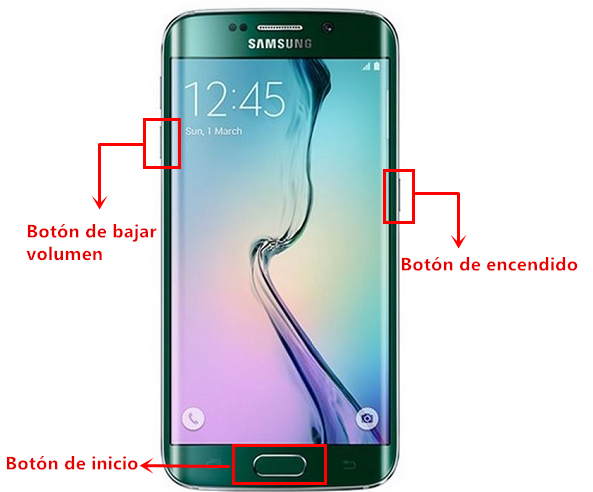 Step 2: Wait until it vibrates and leave it to get the phone to boot up again. Take the help of "Android system recovery" to get started.
Step 3: Select "wipe cache partition" with the volume buttons to restart the phone and remove the black screen.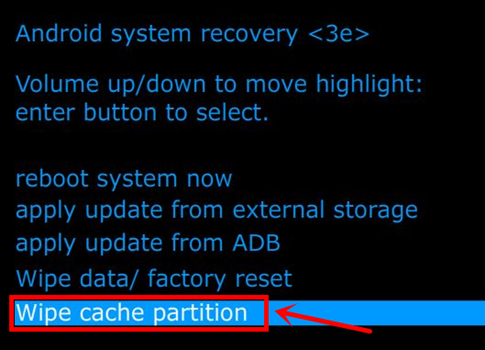 Step 4: If you think that the application is creating such a problem, it is time to restart the phone. If you cannot do it yourself, it is better to have the help of a professional to do it for you.
If the Android phone did not turn on, it is time to remove the battery and press the power button to try a restart. If it turns on, the black screen issue may be resolved, but if it doesn't, then there is a problem with the battery or charger.
Part 3: Recover Data on Samsung with Black Screen
If you see that the screen has gone black and you simply want to save important data saved on the device, here are some things that you should consider doing manually.
You do not know when your Samsung will go black and that is why it is better to have important information previously secured. dr.fone – Data Recovery (Damaged Device) is an application that will help you recover your data in no time, even your phone screen is black. With the help of this application, you can recover everything including contacts, photos, messages, documents, call history, etc.
· Recoverable Files : You can actually recover all the items such as contacts, call history, WhatsApp messages and images, as well as messaging and also all the important files and folders that you have.
The best software in the world for recovery on damaged Android devices.
It can recover data from crashed or damaged devices, such as those stuck on reboot, black or dead screen, etc.

Highest recovery rate in the industry with just a few clicks.

Recover photos, videos, contacts, messages, call log, WhatsApp conversations and much more.

Compatible with all Samsung Galaxy device models.
You can perform data recovery from black screen by following the simple steps:
Step 1: Choose File Types to Recover
Connect your Samsung Galaxy S6 / S7 phone to computer using USB cable. Then click on "Data Recovery" on the main screen and then select "recover from broken phone". Once you have reached another screen, you select the files and items that you really want to recover. The recovery option includes all types like Contacts, Messages, Call History, Pictures, Videos, Audios, Documents, etc. In addition to messaging you can also recover all the important files and attachments you have.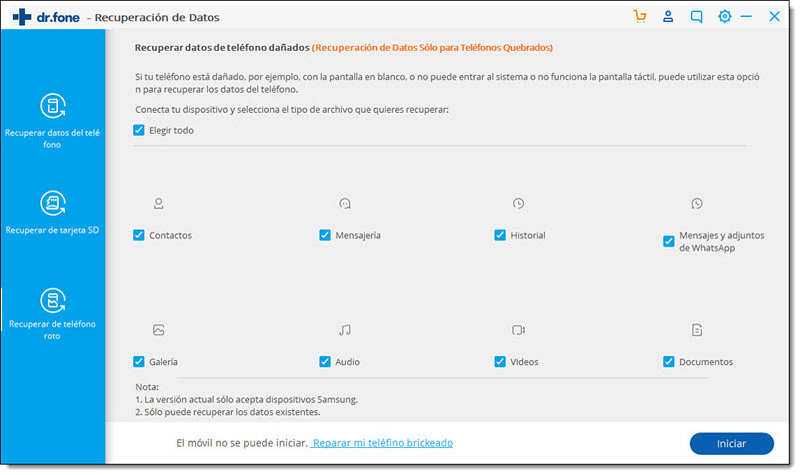 Step 2: Choose the Corresponding State of your Phone
To fix the black screen glitch on your phone, you need to know how it happened. However, when you are recovering the phone, there are two options to choose from the system – the touch screen does not work or the system cannot be accessed as well as with the black screen (or the screen is broken). You need to choose the appropriate setting.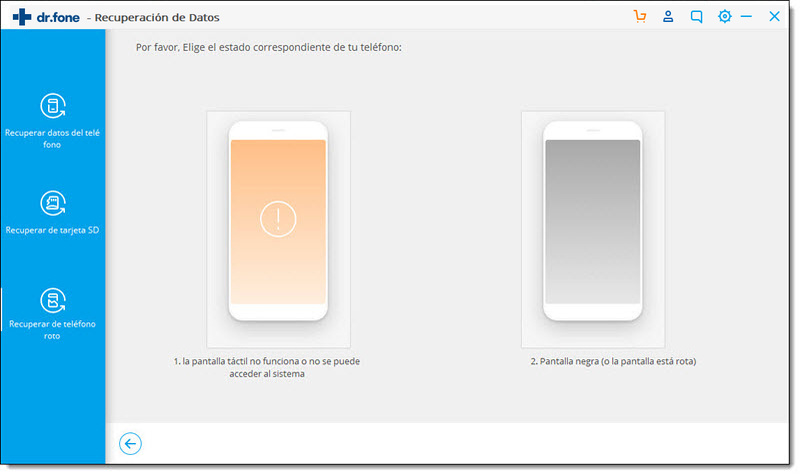 Step 3: Select Samsung Device
You need to understand the fact that the recovery program works differently for each Android device. So you must select the name of the device, as well as the exact model that you are using.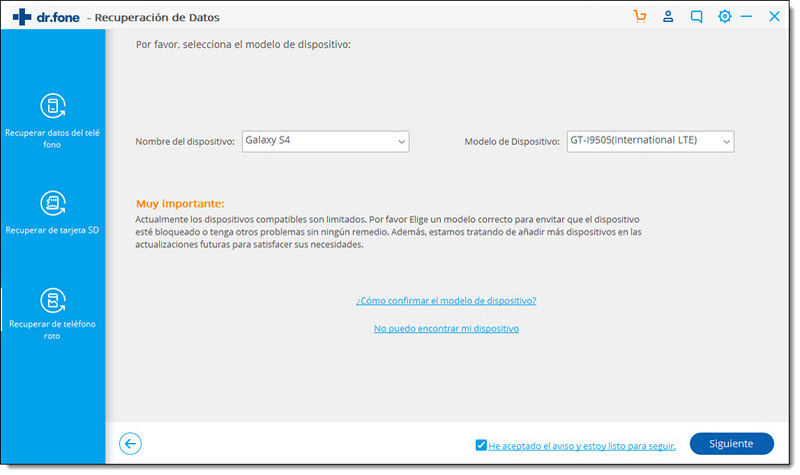 Step 4: Put Android / Samsung into Download Mode
This is the step of entering the phone download mode and starting with the screen recovery.
Here you should track three individual steps which include:
· Press and hold the power button to turn off the phone.
· Then you must press the volume down button, the power button, and the start button at the same time.
· Then release all buttons and press the volume up button to enter the phone's download mode.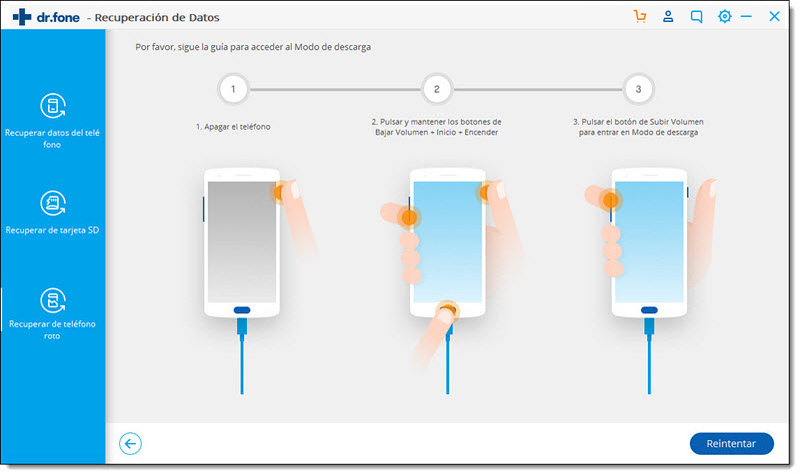 Step 5: Preview and Recover Data from Black Screen Device
Now you need to connect the Android phone to the computer again and dr.fone will analyze it automatically. After the exposure process is complete you have to do one thing, recovery. Once the recovery is complete the files and folders will be displayed in contradiction. The next thing you need to do is select the "Recover" option to complete the process.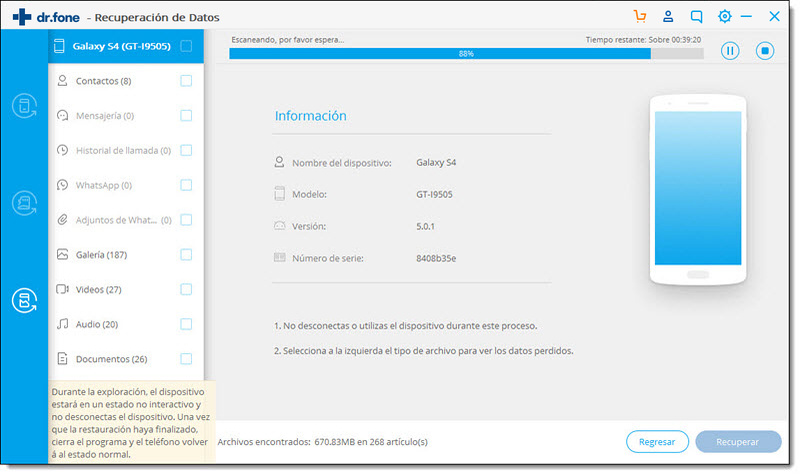 Compatible Devices
Samsung Note series: Note 3, Note 4, Note 4 Edge, Note 5, Note 5 DUOS, Note 8, Note II

Samsung Galaxy series: Samsung S3, S4, S4 Active, S4 LTE-A, S4 Mini, S5, S5 Duos, S6, S7

Tablet: Tab 2 7, Tab Pro 10.1, Tab Pro 8.4, Tab S 8.4, Tab2 10.1
Part 4: Helpful Tips to Protect Your Galaxy from Black Screen
This may sound a bit strange, but getting your phone ready for this kind of thing is the first thing that should go through your head. But to keep your phone away from the Black Screen some of the methods are:
1. Activate power saving mode
Power saving mode helps reduce battery usage as well as automatically closing unused apps.
2. Screen brightness and screen timeout
Brightness and display use a lot of battery life and you can keep them low to protect your phone.
3. Use a black wallpaper
A black wallpaper keeps the LED screen safe and also attractive to help you.
4. Turn off smart gestures
There are a lot of features that you really don't need. You can keep them disabled.
5. Background apps and Notifications
These use a large part of the battery which can cause your phone to crash suddenly!
6. Vibrations
The vibrator inside your phone requires power, too, so if you're on a mission to get all the extra juice out of your Samsung Galaxy smartphone, you probably want to get rid of this.